About The Teacher
Creator of BioDynamic Breath & Trauma Release System®, Giten shares a mastery of body-oriented therapies that has evolved from over 20 years of learning, exploration and work with countless clients and groups around the world. His passion for life, humility and love for people has inspired his own personal journey and the creation of his "6-Element" approach to healing. Giten continually leads practitioner trainings and experiential workshops with his unique blend of creativity, depth and playfulness, while growing the BioDynamic Breath & Trauma Release Institute and its global community of friends and colleagues.
Giten is a Licensed Massage Therapist since 1994 (Swedish Institute of Massage Therapy, New York), and certified Breath & Body Oriented Therapist since 2001 (Diamond Breath School, Miasto Meditation Institute, Italy), as well as a former Osho Multiversity Therapist (OSHO Meditation Resort, Pune, India). He was born in Ukraine and lived in New York for 24 years, before finding his current home in Bali, Indonesia.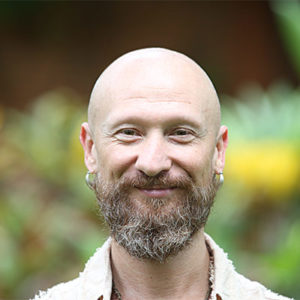 Source: sunriseranch.secure.retreat.guru
Reviews
Write a review - tell others about your experience.