About The Teacher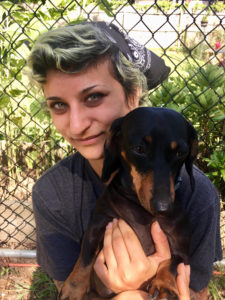 After self-publishing her senior thesis titled "Mind/Body/Soul: A Spiritual Approach To The Metaphysics Of Being," Trii Gargiulo graduated a semester early from her undergraduate studies in December 2018 with two degrees in Psychology and Philosophy.
She approaches philosophy from a psycho-spiritual viewpoint. During her school career, she also worked as a barista and as a counselor. Appalled at the dehumanizing nature often occurring in the mental health industry, Trii found her way to Gaia Sagrada in Ecuador to facilitate spiritual healing for others.
With interest of being of service to humanity and sacred plant medicines, Trii found her way to Gaia Sagrada where she understood what it means to be Home; not so much a physical place, but an intuitive place of being. At Gaia Sagrada she became Assistant Manager in the kitchen which is the heart of all healing centers and returns to Gaia Sagrada for 6 months each year as staff.
All she wishes to do now is to teach others what it means to be at this place within one's self. She does so through creative approaches to teachings of yoga and philosophy. Trii plans to go to graduate school for further study of consciousness and obtain a Master's in Philosophy of Mind. She aims to teach at the university level, alongside her yoga and meditation classes. 
At Gaia Sagrada, Trii shares her interests and talents of which include painting, tattoo design, ukulele playing, philosophical discussion, astrology and vegan cooking. Her very first plant medicine she worked with was magic mushrooms, of which she found to be incredibly healing. She loves facilitating others experiencing the same kind of healing.
Trii is able to connect deeply with those who feel more lonely in crowds than when alone in the woods. When faced with adversity, she takes that darkness and transforms it into light. Trii brings new perspective and deep appreciation for all she does with the understanding that there is so much more that lies beneath the physical realm. She is called by Spirit to act as a bridge between worlds; the immaterial and the material, and to bring a tangible voice to the stars.
Source: magicmushroomsretreats.secure.retreat.guru
Reviews
Write a review - tell others about your experience.