About The Teacher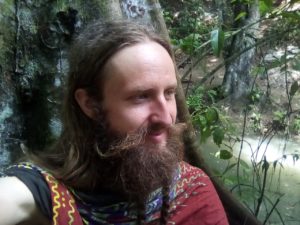 Spirit singer, chaneler, and sound healer. Grew up in the forests of Vancouver Island, communing with nature and an array of spirits since childhood. Started a meditation practice by age 13, and delved into consciousness altering via self hypnosis. At 21, fasted for 40 days awakening into more expanded states of awareness. Being initiated into a wide spectrum of sound frequencies by interdimensional beings, then went on to get certified to teach sound healing by the UK Sound Healers Association, and completed all levels of the Healing Touch program. Studied various forms of holistic massage and bodywork, as well as studying various martial arts and taoism. Has been practicing shamanism since 2001 starting with native north american style, and intermixing principles of Thai, Siberian, central and south american. Has also studied medicinal plants of the northwest pacific coast, central america, and ayurveda. Now generally practicing a free form of classical shamanism without adhering to any lineages. Singing both ancient and otherworldly spirit songs in various vocal styles from overtones & whistling to throat singing, animal noises, and spirit language.
"Spirit is what guides me now. I sing spirit songs from many dimensions with intentions in line with that which is for the highest good of all."
Jam has held well over 100 medicine ceremonies with ayahuasca or it's analogues within the past 4 years and starting working with the medicine in 2003.
Source: thepeacefulvalley.secure.retreat.guru
Reviews
Write a review - tell others about your experience.
Center