Retreats
Aug 21 - 28, 2020 (8 days)

Aug 21 - 23, 2020 (3 days)
About The Teacher
Roger Guest began his formal study of Buddhism in 1973 and has been a dedicated practitioner and teacher for over 46 years.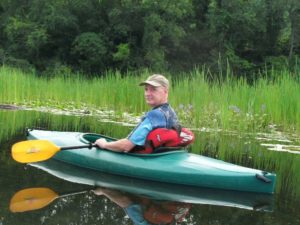 As an active member in the Shambhala Buddhist community, Roger served as Executive Director of Karme Choling in Vermont from 1980 to 1986. After the death of his teacher Chogyam Trungpa Rinpoche in 1987, Roger went on to acquire a Masters Degree in Counselling and Psychology from McGill University, and subsequently established a career in mental health. 
During the past 5 years Roger has been leading retreats that extend mindfulness practices "off the cushion," and has enjoyed leading silent kayaking and nature-oriented youth retreats.
Just as Roger's first book, The Tender Heart of Sadness (2009) provided practical advice on how to manifest the Shambhala path of warriorship, his second book (in progress) will provide techniques for deepening one's moment to moment connection to direct experience through cultivation of the Listening Mind.
Roger currently lives in and works as a Clinician in Vermont, and offers programs and retreats throughout the US, Canada and Mexico.
Source: dorjedenmaling.secure.retreat.guru
Reviews
Write a review - tell others about your experience.