The Hanumen
Retreats
About The Teacher
The Hanumen create a soulful and ecstatic celebration of Naada Yoga (the yoga of sacred sound and vibration) and Bhakti Yoga (the yoga of love and devotion in complete surrender) with an array of unique instruments from around the globe. Sita & The Hanumen will deliver a powerful, mesmerizing musical community event of chanting, world rhythm, poignant stories and mystic poetry.
BAND MEMBERS:
GAURA VANI was born into an American Hare Krishna family and left the US at age six for a gurukula (temple school) in the holy city of Vrindavan, India. He studied ancient Sanskrit and Bengali prayers, learned to play traditional instruments and sing sacred music. He tours internationally offering Kirtan. Gaura's album Ten Million Moons has become a popular choice for bhaktas and yogi's around the world.

BENJY WERTHEIMER is an award-winning musician, composer, multi-instrumentalist and vocalist (playing tabla, congas, percussion, esraj, guitar, and keyboards). He has studied Indian classical music for over 20 years with some of the greatest masters of that tradition. He now tours and records regularly with such artists as Krishna Das and Deva Premal. Benjy has a wide selection of CD's for relaxation, yoga and meditation. http://www.benjymusic.com/
JOHN de KADT is a percussionist and spoken word artist who has played ethnic and hand percussion instruments for almost 30 years. John tours nationaly and has performed on NBC and PBS. His two CD's Rhythms Of The Infinite, released Internationally by Sounds True this September and his previous CD, This Rhythm Is Not Mine have both have received excellent reviews. http://www.johndekadt.com/
Purusartha Dasa: Amazing bass player with years of dedicated experience with many talented bands.
Vish Sheth: Since his birth,Vish has been immersed in kirtan. Singing the Sanskrit mantras in their original tunes came natural to him from a very early age. The mridunga drum has become his inseparable companion. While attending an ashram school in India, he studied the ancient origins of kirtan's sacred mantras, tunes and beats. He also studied harmonium, sitar and flute, along with a number of Western instruments. His knack of fusing the depth of the sacred knowledge of the ancient mantras and tunes with a passionate contemporary flair is elevating the culture of kirtan to new heights.

Vish has traveled to over 25 countries, sharing his unique style of kirtan.  www.mayapuris.com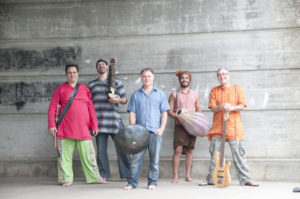 Source: callandresponsefoundation.secure.retreat.guru
Reviews
Write a review - tell others about your experience.
Mind is empty, we don't have to make it empty. Tulku Urgyen Rinpoche