About The Teacher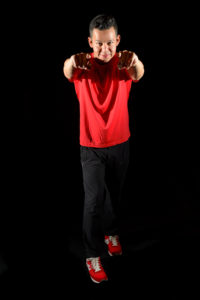 Hector found the connection with yoga about 10 years ago, but it wasn't until 4 years ago that things really shifted for him.  Unhappy with life and with himself – he knew something needed to change.  That lead him to a 200 hour yoga teaching certification.  He later found and dove head first in Sculpt training and soon started teaching in 2015 with CorePower Yoga.  Hector's combines hard hitting beats, cardio, and strength training into an challenging and energetic class.
Keeping the momentum going, Hector leveraged this love for movement and music by teaching in-door spin at Cyclebar.  Hector uses a mix of high energy, motivation, and passion challenges students to their edge while having fun and keeping the cardio-party going.
Balancing a full time job in IT, fitness, and being single dad is no easy task but living life to the fullest is a true passion.  Fitness isn't just a workout, it's a lifestyle.  It's a way to transform your body, your mind and ultimately your live.  Life is too short, not to be happy.  Get out there and create the life you want to live!
Source: peaceretreat.secure.retreat.guru
Reviews
Write a review - tell others about your experience.