About The Teacher
Ashtanga | Vinyasa Flow | Yin
In her "previous life" Irina ran a travel startup in London and since then has travelled to India & beyond in search of a dedicated yoga & meditation community in line with her spiritual values.
As with most people her journey in yoga did not start as a result of a balanced lifestyle, whilst living in London it became apparent that something was missing and so she begun to practice yoga 8 years ago in her local studio. This was the first seed of thought that made her realise her body is her temple and the impact that a 90 min class had on her physical and mental wellbeing was hugely beneficial. The practice of Yoga gave her the courage to discover more about herself and the world and so she packed a bag and went travelling for 2 years. Her mission was and is to live life in the moment.
From practicing yoga on the beach in Goa to remote villages in Cambodia, to traditional ashrams and discovering Ayurveda in Kerala, to meditation with Buddhist Monks in Tibet and hiking the Himalayas, her journey inspired her to see beyond what she has always known of Yoga as the physical practice but that of an integrated lifestyle. Something that everyone can do, that is for everyone.
Her travels and experience has inspired her to create the experience that is Akasha today.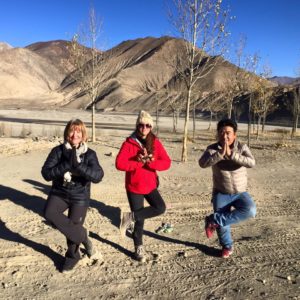 Irina has a 200hr Yoga Alliance certificate after studying Ashtanga Yoga at Kranti Yoga School in Patnem, India, here at Akasha Irina teaches Ashtanga Vinyasa and modified Ashtanga classes.
Source: akasharetreat.secure.retreat.guru
Reviews
Write a review - tell others about your experience.