About The Teacher
Gong Bath | Sound Bath Meditation | Massage
Simona is one of the Gong Master from Romania, initiated by the Grand Gong Master, Yogi Bhajan disciple, Don Coreaux. She is a therapist in massage and alternatives therapies since 2010, working in the Hilton Spa and from 2012 working by herself. She is passionate with her work, making it with inspiration. She organizes in her town monthly Gong Baths, Sacred Sounds concerts and meditation, with Tibetan and Crystal Bowls since 2014.
She was born, studied and lived in Sibiu, where she works with pleasure and compassion with people. She traveled in Europe to improve her massage skills and study new alternatives therapies. She pursuit many workshops for personal development as Gene Keys, Diamond Cutter. She participated to many festivals in Romania singing the Gong and spread love everywhere.
She is a kind soul who believe in people and love the nature, an activist for nature and animals and a vegetarian person from 5 years.
Gong Bath is a therapeutic recital of sacred sounds, is a meditation guided by the sound of the Gong and Tibetan and Crystal Bowls.
The planetary Gongs used during the concert are Venus Gong and Earth Platonic Gong, played together they unify the Greatest Love.
The planetary gongs are instruments calibrated on the specific frequencies of the planets, set to produce harmonious sounds with healing effects on mental, emotional, physical level and consciousness. The sounds of the Gong can be likened to the primordial sound that formed the basis of the Universe.
Among the many benefits of the Gong concert, the most important are:
*Stimulate intellectual, psychic and visualization abilities
*The expansiveness of consciousness beyond the physical body
*Enhance imagination and the ability to perceive and project
*Bring artistry and compassion to your relationships
*Amplify creativity
*Harmonize with the vibration of the Universe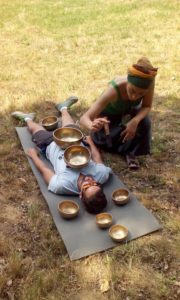 Source: akasharetreat.secure.retreat.guru
Reviews
Write a review - tell others about your experience.
Center