Lead Teacher - Richard Woodall
About The Teacher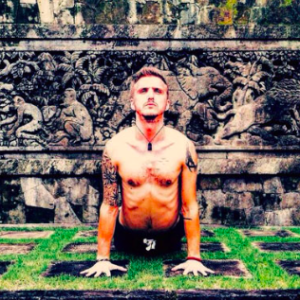 A yogi, a writer, a thinker, a t-total drinker; a seeker of calm, of peace. A lover of stillness and breath, of the ocean and nature. Rich loves seeing people where ever they are in their spiritual journey, embracing the dance. Inspiration for him when people find the moment they can tune into their super bright, true core awesomeness – even if it's just for a moment. Rich is our incredible Soulshine Manager and lead Yoga & Meditation teacher for our Soulshine Snow Yoga Adventures.
What to expect
Rich's classes always have a philosophical approach delivered in an utterly accessible way. His flow classes are dynamic and strong, and occasionally a little challenging. He has also been known to throw in a joke or two and he will often encourage you to lift the corners of your mouth and smile! With playlists that range from traditional chanting, and mediation music to Bob Marley and The Beatles, his classes come with dancing, laughter, and lots and lots of love. His Yin classes are slow, and deep and will encourage you to really allow yourself to be still and at peace with your body and practice. With a focus on finding space, in every sense of the word.
Source: soulshineretreats.secure.retreat.guru
Reviews
Write a review - tell others about your experience.
Center
Close