About This Center
Hollyhock is a not-for-profit dedicated to personal and professional development that advances consciousness, connection, and community toward solutions for a better future. An internationally renowned centre for learning and well-being, Hollyhock presents over 100 social learning programs and conferences on our Cortes Island campus and in Vancouver, BC.
Our spectacular natural setting on Cortes Island is an ideal backdrop for transformative experience. Connect deeply to like-minded people, exceptional teachers, and the natural world. Our campus is also the perfect setting for dreamy island holidays.
We gather revolutionary teachers and thinkers at the leading edge of human development, all intent on service to a better world, for an alchemical mix of higher learning. The Hollyhock curriculum includes subjects as diverse as wellness and wisdom practices, creativity, and leadership development.
Learning here is authentic and powerful. The ripple effect far exceeds the physical boundaries of this special place. Visit us to expand your mind and gain tools to broaden your impact, appreciating the natural beauty of our West Coast island home.
Hollyhock definitely captured my heart. The food is wonderfully balanced and full of flavour. The garden is mesmerizing and the staff is always welcoming with a smile. Accommodation was comfortable and clean. There is something enchanting about this place that is calling me back ~ Monica G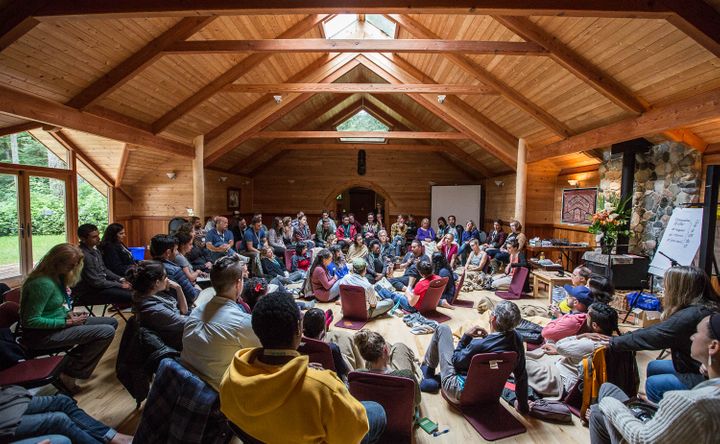 Venue Highlights
Hollyhock sits on the traditional territories of the Klahoose, Tla'amin, Homalco Nations. We are committed to renewing our relationships with the First Nations peoples on whose territories we are guests.
Since 1982 Hollyhock has built upon the history of this land as a place of gathering, a pioneering homestead, and the site of an important human potential education centre. On this foundation of gathering, pioneering and learning, Hollyhock's founders dreamed of creating a lifelong learning and leadership curriculum to inspire, nourish and support people intent on service to a better world.
Hollyhock became a not-for-profit in 2006 to strengthen carrying out our mission into the future. With your help we can keep this as a thriving centre for skill-building, lifelong learning and stewardship of the natural world, inspiring, nourishing and supporting people making the world better for another 30+ years.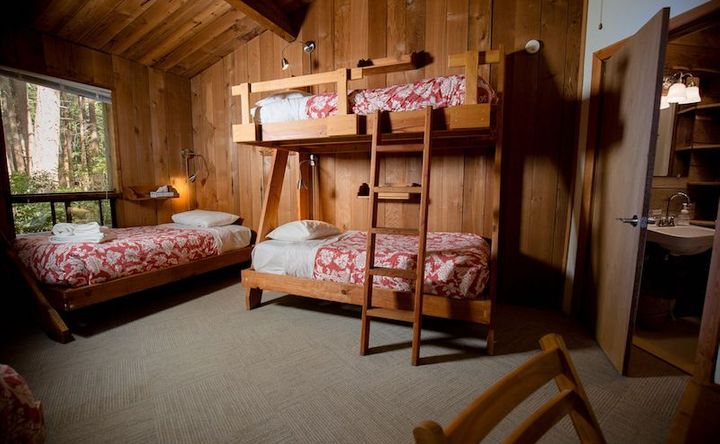 Accommodations
A variety of accommodations are located throughout our lush campus, ranging in price to suit most budgets. Choose from private, beachfront or ocean facing rooms, dorm-style lodging or cabins that nestle in the quiet seclusion of the forest. Our beautiful campsites are also available, with a cedar bath house conveniently located for your use.
Room fees include all Hollyhock basics, like stimulating presenter evenings, delicious, organic meals, morning yoga/meditation classes, guided naturalist walks and tours of the garden, as well as luxurious soaks in our ocean-view hot-tubs. Telephones and wireless Internet are centrally located.
Room Options Include:
Single: 1 Person
Twin: Couple or Friends, 2 beds.
Couple: Couples or Friends sharing 1 bed.
Family/Friends: 3 or more adult friends or family /2 beds
Dorm: Up to 6 people/bunk beds
Tenting with full-service bath house (bring your own tent and bedding)
Roommates can be assigned, upon request, in twin and dorm rooms only.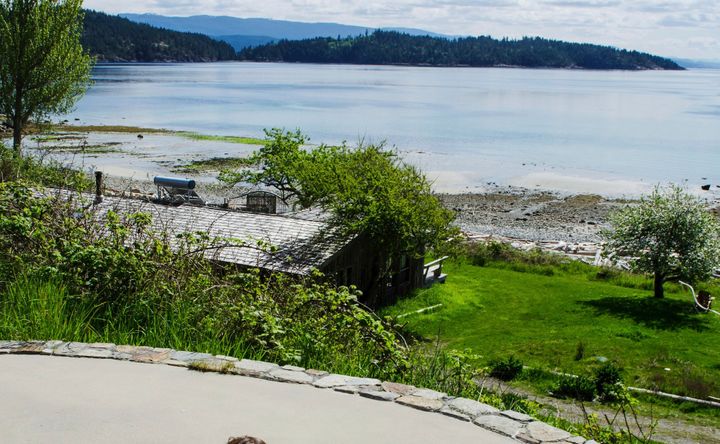 Amenities
Free Wifi
Spa
Towels
Free Parking
Tour Assistance
Hot Tub
Coffee/Tea
Restaurant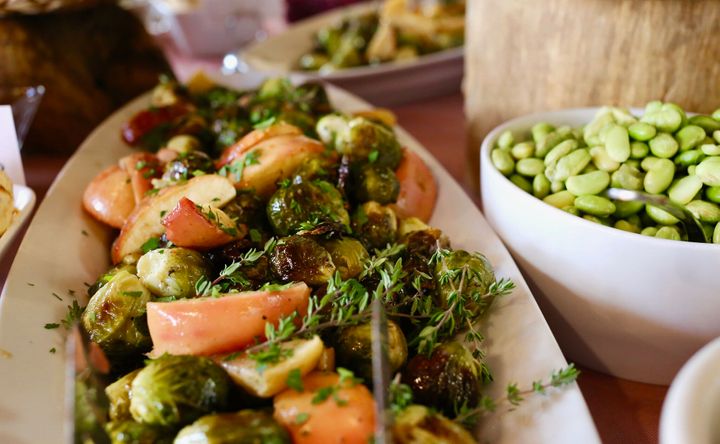 Menu Types
Vegan
Vegetarian
Organic
Dairy Free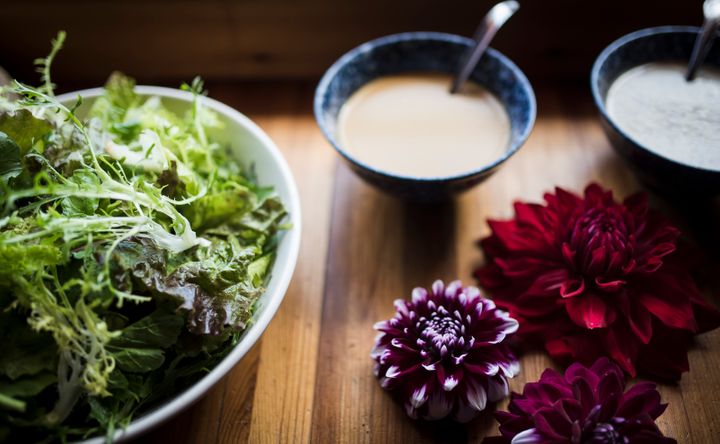 Menu/Cuisine
A feast for the senses! Renowned fresh, sumptuous food has made our Hollyhock kitchen famous. Our French-Intensive garden supplies vegetables, herbs, fruit, and flowers to each meal, gracing your table with food that is nourished with care every step of the way.
Our healthy, organic, vegetarian fare features ingredients from our abundant gardens located just outside our kitchen door, and well as local BC foods.
Meals at Hollyhock are globally-inspired and prepared with love and skill in our Hollyhock kitchen. Enjoy weekly wild seafood dinners and beach-side oyster appetizer barbecues. We serve organic grains and organic produce sourced locally, whenever possible. Organic herbs, flowers, greens, and vegetables are harvested daily from the Hollyhock garden. Our orchard produces many beautiful fruits featured on the dessert menu seasonally and served in our 24/7 fruit bowl, offering. Our meals are created and served "family style".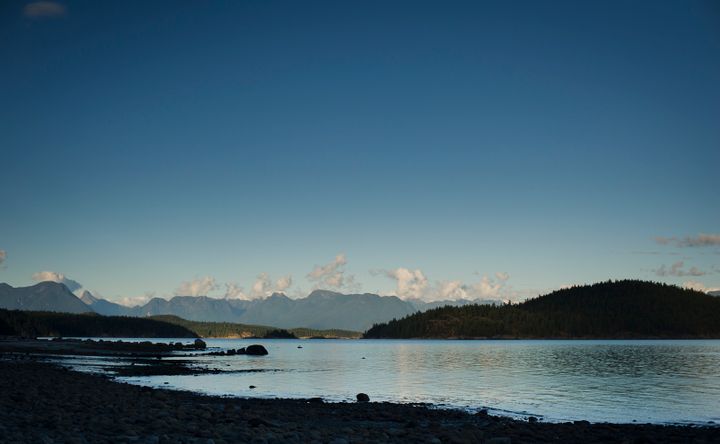 Directions
Our address is: PO Box 127, Manson's Landing
Cortes Island, B.C. V0P 1K0 Canada
There are a variety of ways to get here. They include:
Seaplane:
1 hr from Vancouver
2 hrs from Seattle
Fly & Water Taxi:
2 hrs from Vancouver
3 hrs from Seattle
Roadtrip
Approx 6 hrs from Vancouver
Approx 10 hrs from Seattle
Public Trnsport (Ferry)
Approx 6 hrs from Vancouver
Approx 10 hrs from Seattle
Other ideas:
Rideshare:
Lighten your footprint and cost by sharing a ride with a fellow Hollyhock traveler – you might make a new friend! Create a free account on our secure Ride Share Board.
Electric Charging Station:
We are proud to offer an electric vehicle charging station on campus. Plan your stops with PlugShare.
Hollyhock Shuttle:
Complimentary for Onsite guests to and from ferry, seaplane, water taxi and ferries.
Reviews
Write a review - tell others about your experience.