About This Center
Join us for a magical journey through consciousness that will change your life forever. This is a chance to overhaul your system through shamanic healing and realize your full potential. All whilst being supported in your healing journey with love and kindness by our amazing shamans, staff and volunteers.
This is a life changing event, a healing retreat that will change how you see yourself and life. Be ready to meet yourself at levels you never thought possible! Meet the master within you an explore the universe that you are!
Experience Ayahuasca and San Pedro Medicine Ceremonies with authentic Ecuadorian shamans who speak both Spanish and English and who form a bridge between both ancient and modern worlds.
Enjoy delicious vegetarian and vegan food, yoga and meditation workshops, meetings for integrating your experience in ceremonies, hot tubs, wifi, comfortable, modern housing and more!
Gaia Sagrada has rightfully earned its reputation for being one of the safest retreat centers in the world!
Safety First! Our medicines are prepared with the utmost of integrity, nothing else is mixed into them, so you can truly meet the purest form of the medicines Ayahuasca and San Pedro. Enjoy! Looking forward to meeting you! We are here to serve!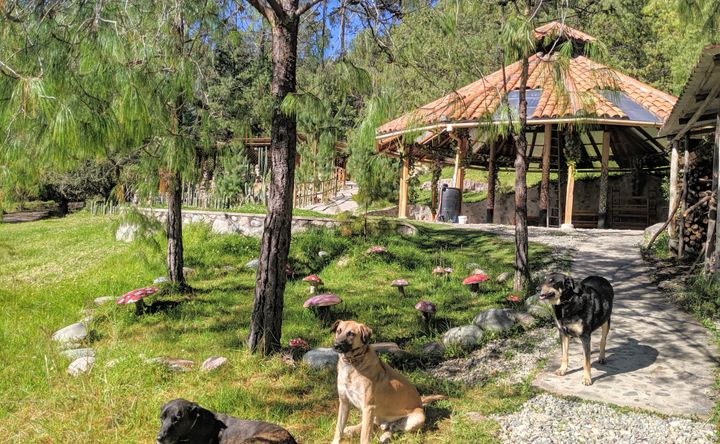 Venue Highlights
- pure medicine with English and Spanish speaking shamans
- 55 acres (22 hectares) of beautiful pristine land to walk on, with hundreds of miles of country roads around us to walk.
- a small waterfall nearby to make a day hike to
- doggies to fall in love with who are really angels in disguise
- 35 minutes away from a hospital and civilization by car if you have an emergency
- WIFI internet to keep in touch with your family and friends
- delicious vegetarian food (vegan and gluten free options too)
- hot tubs and sauna
- daily yoga and meditation classes
- a variety of workshops from chakra alignment to salsa dancing
- music room
- hot water 24/7
- modern housing
- a spiritual family atmosphere, everyone makes friends fast
- and much more!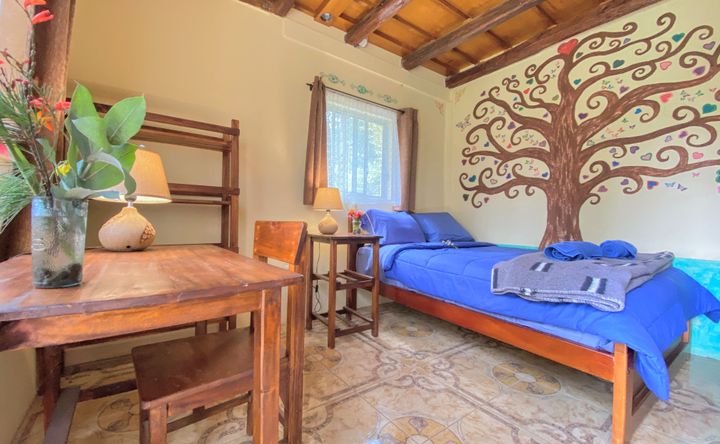 Accommodations
We have several choices of accommodation that will fit your budget. Private rooms, shared rooms and dormitory (male and female separate), and one bedroom apartments. Please visit our website for full descriptions and pictures.
The price of the retreat depends on the housing that you choose. If you want to keep it affordable sign up for Dormitory housing. If you want to have your own room, sign up for Private Room or Apartments. Shared rooms is the "in-between" price.
There are plenty of places on the land to find space to be by yourself if you are looking for time alone (we have 55 acres! 22 hectares). Enjoy all the little secret hidden spots on Gaia Sagrada's beautiful land!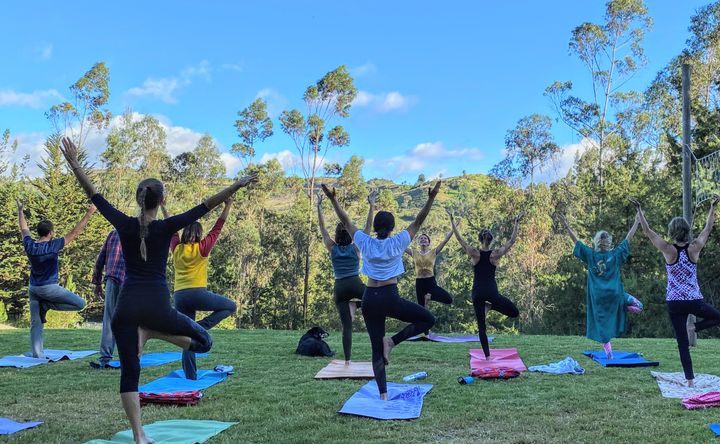 Amenities
Free Wifi
Sauna
Towels
Free Parking
Kitchen
Tour Assistance
Hot Tub
Coffee/Tea
Yoga Studio
House Keeping
Ceremony Space
Menu Types
Vegan
Vegetarian
Gluten Free
Dairy Free
Nut Free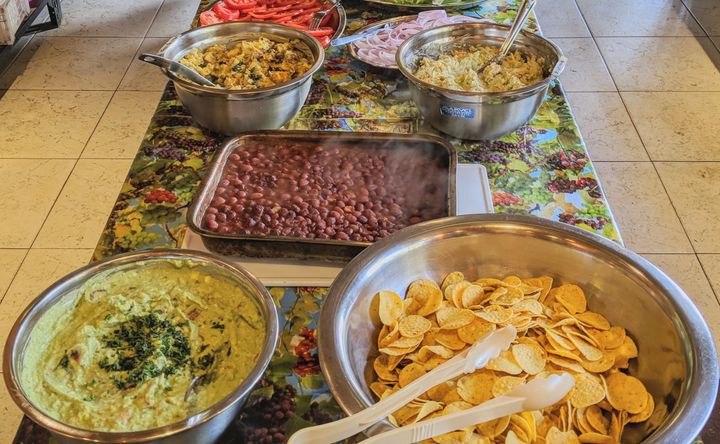 Menu/Cuisine
Gaia Sagrada serves delicious vegetarian meals, and can accommodate vegan and gluten free diets as well. All produce comes from the markets and farmers, and all meals are prepared by an experienced and creative cook.
Everyone raves about the food at Gaia Sagrada! It's a myth that the ayahuasca diet has to be bland. The ayahuasca diet the way we make it is really delicious and enticing! We have found some really creative ways to make the food absolutely fun and yummy!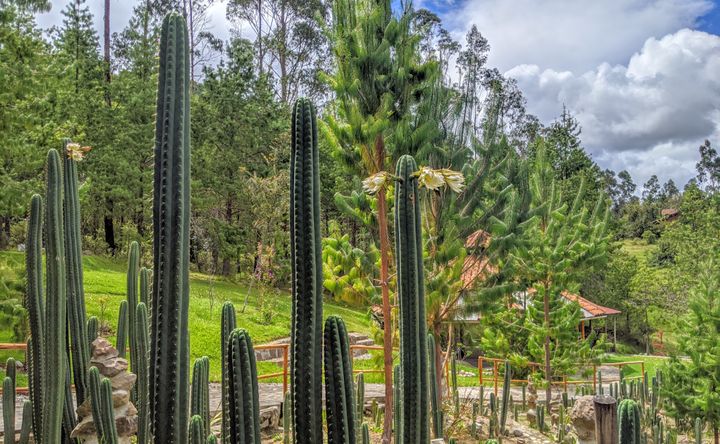 Directions
You would want to fly into the Quito or Guayaquil international airports in Ecuador, and then a connecting flight to Cuenca from either of those two airports. Your final destination is Cuenca, Ecuador where our drivers will pick you up and bring you to Gaia Sagrada! It's easy, and Ecuador is very safe to travel in. Feel free to see our site for more details.
Reviews
Write a review - tell others about your experience.
Cam Milla April 03, 2020

Such a beautiful life changing experience

I had such a powerful experience at Gaia Sagrada. I have never felt that much love in my life, from the medicines, the shamans, the staff and the atmosphere of the place. Extremely beautiful up in the mountains, comfortable climate and not to mention the most delicious food. I never thought Aya food could be so good. My first ayahuasca experience was quite difficult, so I went to ask the shaman for advice after. He was so kind and easy to talk to. It helped me clear anxiety I have been dealing with for years, so I am very grateful. Thank you so much Salvador. My second ayahuasca ceremony showed me how to truly love myself, and I cannot express the gratitude I feel for this experience. The medicines showed me what I needed in ways I could not have imagined, and I have so much respect for them. By the end of the retreat you feel like one big family with the other people attending the retreat and it is so beautiful to share this journey. The vibration of this place is just incredible, and I will be back to experience it again.

Bonni Ellis April 02, 2020

I would recommend Gaia Segrada to EVERYBODY!!!

It is difficult to put in words how grateful I am for my experience at Gaia Segrada. My daughter and I had discussed how we were both interested in attending an Ayahuasca retreat last summer and, in the fall, she told me that she had researched options and planned on attending Gaia in December. After her retreat, she described her experience to me (in the most glowing terms imaginable) and I started booking my own retreat right away. She had told me how amazing the shamans and the staff were, but even with all her praises, I wasn't expecting to meet such an incredible group of people. I have never had the privilege of meeting so many wonderful souls--Christine, the staff (including, Carly, Ross, and Carole xoxo), the volunteers, the shamans (omg the shamans!!!), and even the dogs:) I would be remiss if I didn't also mention my fellow attendees--a group of amazing people from all over the world that I had the privilege of sharing this experience with and who have now become life-long friends. The environment at Gaia is one of total support. I was nervous about experiencing Ayahuasca and San Pedro for the first time and had a couple of experiences with the medicine that were very difficult, but I ALWAYS felt safe, I ALWAYS knew that I would be cared for, and I ALWAYS felt nothing but love from everybody there. Everybody's journey with the medicine is different, but almost everybody encounters challenges along the way. That is why I have no hesitation whatsoever in recommending Gaia. This is the place you want to be when you inevitably encounter your own challenges with the medicine. This is the place where everybody will help you to work through those challenges. This is the place where those challenges can turn into insights, lessons, tools, and victories going forward. If life is a journey, Gaia is a lighted path. PS. If you can, sign up for the 12-day retreat. I had originally signed up for the 7-day and am SOOOOO happy I switched to the 12-day. I would definitely have missed some important opportunities without those additional days. Besides, you will not want to leave after 7 days. Trust me on that:) -Bonni

Bonni Ellis April 02, 2020

I would recommend Gaia Segrada to EVERYBODY!!!

It is difficult to put in words how grateful I am for my experience at Gaia Segrada. My daughter and I had discussed how we were both interested in attending an Ayahuasca retreat last summer and, in the fall, she told me that she had researched options and planned on attending Gaia in December. After her retreat, she described her experience to me (in the most glowing terms imaginable) and I started booking my own retreat right away. She had told me how amazing the shamans and the staff were, but even with all her praises, I wasn't expecting to meet such an incredible group of people. I have never had the privilege of meeting so many wonderful souls--Christine, the staff (including, Carly, Ross, and Carole xoxo), the volunteers, the shamans (omg the shamans!!!), and even the dogs:) I would be remiss if I didn't also mention my fellow attendees--a group of amazing people from all over the world that I had the privilege of sharing this experience with and who have now become life-long friends. The environment at Gaia is one of total support. I was nervous about experiencing Ayahuasca and San Pedro for the first time and had a couple of experiences with the medicine that were very difficult, but I ALWAYS felt safe, I ALWAYS knew that I would be cared for, and I ALWAYS felt nothing but love from everybody there. Everybody's journey with the medicine is different, but almost everybody encounters challenges along the way. That is why I have no hesitation whatsoever in recommending Gaia. This is the place you want to be when you inevitably encounter your own challenges with the medicine. This is the place where everybody will help you to work through those challenges. This is the place where those challenges can turn into insights, lessons, tools, and victories going forward. If life is a journey, Gaia is a lighted path. PS. If you can, sign up for the 12-day retreat. I had originally signed up for the 7-day and am SOOOOO happy I switched to the 12-day. I would definitely have missed some important opportunities without those additional days. Besides, you will not want to leave after 7 days. Trust me on that:) -Bonni

Sylvain Payette February 23, 2020

12 amazing days retreat

I have just returned from a 12 day stay at the magical Gaia Sagrada Ayahuasca retreat center. The place is a paradise in the Andes far from the mechanical noises of the cities. the location is laid out in the forest while respecting the latter which allows us to connect this revitalizing nature. The warm welcome of the organizers and all the staff and volunteers puts you immediately comfortable and secure. I have made several or even multiple formations over the past ten years, thus raising my consciousness to recognize the high vibrations. My first experience was cleansing with Amalia, it was a fantastic moment that will remain etched in my memory, a cleansing of trauma layers crossing and penetrating to the soul. I highly recommend it, or even essential. Ayahuasca ceremonies are masterfully led by professional Shamans with respect for traditions and our consciences. I had the privilege of contacting Mother Ayahuasca as well as several dimensions of our environment, an extraordinary quest and awareness. It was magical to listen to the traditional songs of the Shamans. I even at some point more intense was accompanied by one of the female dogs which helped me connect to a higher level of consciousness. The family meetings were moments of pleasure even if sometimes they were loaded with great emotions. The San Pedro ceremonies were rich in intensity and introspection of the I am. Again I have cleaned up old roots and traumas from my childhood, a moment of pure joy. The sweat lodge, wow, of maximum intensity and physical and psychic level of consciousness. Mother Ayahuasca recomanded me to do an other cleansing. I did one whit Valeria was magical again. What about the Super San Pedro Christine, it was a memorable journey a major boost in consciousness at very high frequencies. It's been ten days now since I came back home and I know and feel that something has settled in me. I am more sensitive to the flow of energy during my meditations. I feel the connection with my heart during Reiki exchanges. Many thanks To Christine, Carly, Salvador, Amalia, Sophia, Valeria and all of you family volonteers, brothers and sisters...lots of love

Chuck February 15, 2020

Healing and profound

The staff at Gaia Sagrada is amazing l, as is the property. The participants are just greeted with love and laughter and life and encouraged to face difficult journeys with the plant medicine only to emerge as a better human being. I'm so grateful for my experience and the insights I had at Gaia that I would never want to go anywhere else and can't wait to go back again!

Gritt Madisara February 14, 2020

A truly magical and memorable experience

A truly magical and memorable experience. The feelings of love, gratitude and compassion from Grandmother Ayahuasca, and Grandfather Aguacoya were profound. In addition to the potent medicines, each person in the ceremony projected a healing energy that really helped to accelerate my own healing. Gaia Sagrada is a very special place (thank you Christine). The volunteers, the shamans (thank you Salvador and Namur), the location, the facilities .. everything, were amazing. I always felt safe, and comfortable (don't forget to bring really warm clothes). Highly recommended!

Russell Peterson February 01, 2020

Healing and understanding in a safe and beautiful place

I attended the 7 day retreat. I totally exceeded may expectations for both healing and understanding myself. The safety and love I felt was integral to my healing. It was truly transformative.

Christian Panas January 27, 2020

Above and beyond

It was clear from stepping onto the property that a lot of intention and attention goes into the development of Gaia Sagrada. The staff were without exception incredibly giving of themselves the entire time. The "family" of shamans also gave of themselves exceptionally and it is hard to find adequate words for my appreciation of what they shared. It was even more surprising to discover how supportive and tight the group with which I was experiencing would become. Everyone was there for everyone throughout, and that was beyond value. The Gaia Sagrada staff even followed up with those who needed it after the retreat was over. I was not expecting to so overwhelmed with care and attention, to have such a well-thought-out experience for twelve days, to feel so absolutely taken care of and protected. Exceptional facilities, exceptional people, exceptional value. I can't imagine how I could have made a better choice.

Eric Wilder January 27, 2020

Gaia Sagrada

Gaia Sagrada WOW..... This was my first psychedelic journey and I was a little nervous. I was there with my son who encouraged me to come with him and he with the staff helped me get past the initial apprehensions. My experience at Gaia went well beyond all my expectations I guess it all starts by being welcomed with a big warm hug and meeting with very open caring staff. You then look around and realize you're in the Andes surrounded by great facilities. A Tipi, the sweat lodge, numerous malocas and fresh air!!!! The ceremonies and meetings were just amazing. The shaman and facilitators have tremendous insights to share and an ability to get everyone involved and help step out of their comfort zone to share and express their feelings and intents. The ceremonies were at times intense but the settings, the incaros, the rhythms, the prayers were always beautiful and meaningful helping you to go calmly deep within yourself. Gaia really does what it sets out to do, by giving birth to a place where amazing healing happens. I have truly turned the corner, and seen others transform. I have gained knowledge that will be with me forever. I don't have any doubts that I made the right decision!!! And may everyone have a good day and a good life!! Ej

Kai Cameron January 06, 2020

Beautiful Center, and a Wonderful Place to Volunteer

Volunteering at Gaia Sagrada has been an amazing and extremely transformative experience for me. I truly love the atmosphere, and the Shamans' love and dedication to their work is truly admirable. I'm so grateful for my experience at Gaia Sagrada, and definitely recommend it for everyone.

Veronica Stanwell January 06, 2020

Incredible & life changing

Gaia Sagrada truly has a special place in my heart. My personal healing and growth has never been so nourished and I completely trust the shamans ans staff as absolute professionals and life changers. The ayahuasca and San Pedro medicines offer immense healing and insight and I particularly gained a huge amount from the sweat lodge ceremony where the shamans combine the two medicines. Every ceremony taught me so much and the overall attention to detail and beauty of the place blew me away. Couldn't recommend it more.

Jenni Benham December 28, 2019

Just incredible

Gaia Sagrada is quite possibly the best place in the world to do plant medicine. The location in the mountains is stunning, and the altitude means it is cooler and there are no mosquitos, unlike the heat and humidity of the jungle, no being eaten alive by bugs at Gaia! Which is not something you want to have to worry about in ceremony, believe me! The center itself is just too cute! It's not a 5 star hotel so don't expect luxury, but it's very cosy and comfortable. Especially the beds! You can tell that the mattresses are of very high quality. The hot showers are fabulous too! And the food! My god, I never expected food at an Ayahuasca retreat to be sooo good! Now for the ceremonies. WOW. I have participated in ceremonies at a few different centers in Peru and the ceremonies at Gaia Sagrada are by far the best. This is mainly due to the shamans. The fact that they speak English is a god send and allows you to really get to know them. And when you do, you understand that they are genuine loving people with such strong integrity. Their love for humanity is obvious and the work they do to help us heal is beyond words. And their singing! Just amazing. The sweat lodge ceremony was otherworldly. I just cannot use words to describe how transformational these ceremonies are. As well as the shamans the team of staff and volunteers that are on hand to help during ceremony, and throughout the retreat, made me feel so safe and taken care of. It really allowed me the space and trust to go deep with the medicines. Unlike in other places where I didn't feel as safe or looked after, my experience with the medicines wasn't as profound. You can tell that everyone at Gaia really cares. There are volunteers living there for months at a time because they believe in the power of plant medicines and want to help others have a meaningful and healing experience with them. Everyone really makes you feel part of the family from the moment you arrive. Honestly, don't bother with anywhere else for plant medicines. Gaia Sagrada is the best.

Carol King August 05, 2019

Awesome

If safety is important to you, this is the place. Gaia offers professionalism, cleanliness and compassion from the owners to the shamans to the staff/volunteers. The grounds are beautiful, the medicine is powerful and the ceremonies are facilitated in such a beautiful and sacred way.

K M June 30, 2019

Gratitude

I have been at Gaia Sagrada for a number of retreats. I am so glad I came here to try the medicines for the first time as I felt so safe and thus was able to dive deep and let go. I really liked that there are female shamans. All of the shamans are such beautiful, gifted souls. The ceremonies are profound. I walk away with many lessons learned, and the most important one - PROTECT AND LOVE THE WATER. The help in ceremonies was reassuring, I felt cared for and secure in knowing if I needed support to the bathroom the help was there. The food is healthy, delicious, and creative. The facilities are clean and comfortable. What a beautiful experience it has been. Thank you to all the shamans and thank you to Christine and Bruce for creating this beautiful space for people to come and and bloom <3 K.

David Garner June 02, 2019

A beautiful experience

I have been to Gaia sagrada numerous times since 2015. I feel so lucky to have had my first medicine experience here, as I did try Ayahuasca somewhere else also but that was a very difficult time. These medicines are very powerful and it's important for me to go somewhere I can trust. They have amazing shamans, helpers during ceremonies. It's very transformative to do a retreat here. The staff are amazing and really helpful, and the food is so good too. I would never have thought healthy food could be so good and plentiful to support the process. I always found that there is a family bond with all the other participants on a retreat and new friends for when you leave. If interested in these medicines, I totally recommend Gaia Sagrada.

Greg Schaefer February 18, 2019

Healing and Transformative

Everything about my seven days at Gaia Sagrada exceeded my expectations...everything. The ceremonies were very well planned and expertly-led, which created a safe space to really go deep into the experience of the medicines. The Shamans, Salvador and Amalia, were really great at leading these powerfully healing and transformative gatherings. Thanks to them, I left the retreat having gotten more than I expected and exactly what I needed. The staff and work exchangers, without exception, were friendly and helpful in so many different ways. The entire experience was infused with their positive energy, compassion, and commitment to our healing. I am not a vegan or vegetarian, but I have to say that the food, thanks to Carol, was really terrific. The accommodations were not exactly posh, but they were certainly more than adequate. One thing that I definitely did not expect was how closely I would bond with the others in my group of 30 and with certain members of the staff. A big part of the experience was the sense of loving community, and an awareness of how much of the healing that happened here came through this sense of interconnectedness. Finally, I have to express my deep appreciation for Christine, whose vision created this wonderful place. My only regret is that I didn't stay for the entire 12-day experience, but now I know what to do when I return.

Jennifer Maves February 17, 2019

Life changing

It is hard to put into words how grateful I am to all of the Shamans, staff, Christine, Jerry, and others in this journey. I came to heal and I did and so much more. The medicine, shamanic music, and the Shamans themselves are intergrated in such a magical way, you will never be the same when you leave. I am forever grateful.

Devon Cunningham December 18, 2018

Truly An Amazing Experience!

My experience at Gaia Sagrada was such a magical healing experience. From the moment we arrived at the beautiful property we were received with so much love. Jerry Rabas and the entire Gaia Sagrada staff were absolutely amazing. They all made sure we had everything we needed and that everything was handled perfectly. We received the utmost care and were very comfortable. The ayahuasca and San Pedro ceremonies were breathtakingly beautiful and were done with such a level of expertise and pride by Shamans. They all made sure we were safe and provided for every turn of the way. It was truly an amazing healing experience that I will never forget.

flo mo September 14, 2018

a piece of paradise

I went to Gaia Sagrada, primarily because I wanted to accompany my wife recover from past Trauma and expand my spirituality. But what I found was much more than that… First, the property is very peaceful with everything that you would need, including hot tubes, sauna, hiking trails, fast wifi, etc. The food is amazingly good and aplenty. The community formed by the work exchangers and the guests is amazing. We came as strangers and left as a family. The medicines are potent and unlimited. The shamans are very skillful, kind and available. Overall everything is very professionally run. You don't have to worry about anything but your self recovery. As I said at the beginning, I came more as a support. But I gained immensely from this retreat. I had some fear, some small anxiety, a small loss of purpose in life. Every single things got fixed. I haven't felt this peaceful in my mind and my heart for ages. I can't praise enough this little paradise on earth. If I had more time, I would have definitely stayed here as a work exchanger. I am very grateful that this place exist. From the bottom of my heart, thank you.

Anne Laure Bouyer September 14, 2018

Amazing retreat to find PEACE

My husband and I signed up for the 12 days retreat Ayahuasca and San Pedro and those 2 medicines are perfectly safe. You are guided through and through the whole time. The shamans working there are very knowledgeable and professional. I had some childhood traumas I wanted to heal: I was very happy with my life but still struggled to stay away from fear and anger from time to time. Plus we were talking about starting a family, but I was simply terrify to bring a new life into this damaged world, full of people who can hurt you. Well let me tell you: this place, these medicines, the other guests and people working there had the effect of 20 years of psychotherapy in 12 days. I cannot recommend this place enough! I am now at peace, full of energy, of love and sooooo ready to have babies :D I can't wait to put into practice all the things that I have learned from this retreat. I have totally made peace with my past : the past is behind, learn from it - the present is here, live it ! The facilities are amazing (they even have hot tubes, awesome), very environment friendly, huge propriety, super clean, beds are very comfortable and the wifi works well. And the food... OMG just delicious, abundant and completely Ayahuasca friendly (you have to follow some diet guidelines to make sure you react well with these medicines). I know some retreat only offer rice and plantains, well here you will be nicely surprised at every meal. In addition this is a Non Profit, their prices could be considered high (we are on a very tight budget) but once you get there you understand why - and I promise you, you won't regret it. After all, what better investment could you do than in yourself? I would totally recommend this place, go find yourself at Gaia Sagrada!

John Steiner August 27, 2018

Magic

My time at Gaia Sagrada was the most beautiful, difficult, healing, magical, and rewarding experience of my entire life. I can not recommend it enough. I let go of so many things that were no longer serving me. I found what I've been looking for my entire life. My heart is so open, and the gratitude I feel for every aspect of life is almost unbearable at time. I feel like if just one more beautiful leaf was in my world, it would be too much to handle and I would just float away on waves of love. I came there depressed, disconnected, fearful, stuck in my head, basically a mess. I left feeling grateful, blessed, so full of joy, full of love, and with such an open heart. I sorted out a lot of my life's path, and feel like I found some direction. I received tools to help carry this new found life into the "real" world. I met lifelong friends. I had so much fun. The work on myself was hard, but it was the most worthwhile thing I've done for myself ever. All the staff and work exchangers were angels. The Shaman's were masters of their craft. The food was the most delicious and healthy I've ever consistently eaten. The facilities were so clean. The buildings and artwork on them were so beautiful. I can't wait to come back. If you're thinking about going, do it. It will be among the nicest things you've ever done for yourself. You deserve it.

Yihaies Makonnen July 05, 2018

Amazing place filled with amazing people

I attended a 12 day retreat at Gaia (April - May 2018) and wanted to wait till I write a review to see the changes that happened to me was real. I don't even know where to start. I am 45 years old and I have lived and traveled around the world and been to other retreats and meditation centers. My Gaia Sagrada experience was by FAR the best experience of my LIFE. And I mean THE BEST. And the reason IS NOT just because of the Ayahuasca medicine, the San Pedro medicine, the ceremonies, the songs, the sweat-lodge (which kicked my butt LOL), the prayers, the location, the food and even the air. All the things I mentions were truly amazing BUT what separated Gaia Sagrada for me was the people. Christine, Salvador, Amalia, Paulina, Jerry, Amanda, Annie, Joe (thought me a life lesson: always hug to your left so the hug can be heart to heart) and all the work exchange students were just AMAZINGGGGGGGGGGGGG! They are truly the Medicine. The love, dedication and attention they give you is one of a kind. I came to Gaia by myself to clear my head and make a business decision. By the time I left, my heart was filled with joy, I started seeing the best version of myself, what I was created to do in this world became more defined and most of all I made friends for life. I can write a book about how great Gaia Sagrada was for me and still is. And when I write my book I will make sure to mention this Amazing place filled with amazing people. I highly recommend Gaia Sagrda. I plan to go back in 2018. Mike Makonnen

Paula Friis July 02, 2018

Exceptional

I attended a 12 day retreat at Gaia one month ago and am still feeling the effects of the transformative experiences that took place there. You are told on the first days that it will be life-changing and believe me it is - and only in positive ways. I came to the retreat to explore my consciousness, as far as I knew I didn't have any major healing to be done, my life was pretty good before Gaia. However my life is immensely better now - not in the Snow White singing songs to the woodland creatures of the forest type of way, but in the way that my perspective on things in life that I deemed difficult or a burden are now welcomed as a chance to grow and to give back. So many teachings that I had learned mentally before Gaia were experienced and 'felt' when under the influence of Ayahuasca and San Pedro and I am now able to remember and return to those feelings when challenges come up. These changes were only possible due to the safe and loving environment that Gaia provides. From the moment I got out of the taxi to see the happy welcoming faces of the work exchangers I felt completely comfortable. Jerry, the main admin guy is a rock who preps you with loads of info for the ceremonies so you feel a lot less nervous and much more at ease with what may or may not happen. The shaman are incredible. Their wisdom and humility guide you through the ceremonies through music. Experiencing the power their music (voice and instruments) had over my experience was mind-blowing. I realised how important it was to trust the shaman with your journey and I 100% trusted Salvador, Omelia, Sophia and Christine. I cannot even put into words how powerful and generous these four are, I just feel so completely blessed to have met them and so honored to have sat in ceremony with them. The fact that it was an English speaking retreat was a huge bonus as well. The facilities were beautiful, so much care has been taken and continues to be taken to make sure the grounds and buildings are kept to a very high standard. I had a room in Tranquillo - a private room with shared bathrooms. It was perfect, the bed was super comfy and it was always serene and quiet. There are hot tubs with a gorgeous natural outlook that is perfect for the days after ceremonies. The food is exceptional and at Gaia they make the most of the abundance of fresh organic fruit and veg that Ecuador excells in growing. One of the best things about the retreat is the connection you make with your 'Gaia family'. I was with the most amazing group of people from all over the world. I was slightly apprehensive before I got there that I may not fit in due to my age - a very ancient 44 :-) - I assumed most other attendees would be very young - nope, this was not the case, there were younger people but thre were also olders ones and age was not a factor, just being human was. Everyone was accepted and appreciated for who they were and what they needed to go through. I witnessed so much healing taking place and people becoming more confident, relaxed and happier in the 12 days I was there. We are all still all in touch on a daily basis while we help each other integrate back into post-Gaia life. We have shared an experience that has bonded us forever and many of us are already planning to regroup at Gaia next year. I could go on for pages about how much I loved my time at Gaia and truly cannot recommend this place enough. Oh and if you are wondering about the medicine - it was magical, strong and plenty was offered. The combination of both San Pedro and Ayahuasca creates a perfect duality of masculine and feminine, with the San Pedro often helping to clarify the messages received in the Ayahuasca ceremonies. Add in a sweatlodge and as they say... you will be reborn :-)

Gertie Italiano January 28, 2018

Healing the Heart

I am 72 and just completed my second 5 day retreat. Gaia Sagrada is a great place to experience an ayahuasca healing. Accommodations are comfortable and you always feel safe and well cared for.

Cris Toph January 26, 2018

from the lands of being here...

Subjective as any review is, it would be rather incomprehensible that anyone would walk away from Gaia Sagrada empty-handed or disappointed. The staff makes one's stay there just as comfortable as in a resort. The plant-medicines offered are as potent, genuine and com-passionate as all of the Shamans, namely Salvador, Amalia, Waira and Sophia. Gaia Sagrada is as unique and precious as each of the visitors that are called there. It is a place of community as well as letting be that which arises and dawns on the horizon of being here. Initially drawn there for the combination of Ayahuasca and San Pedro in the Sweat Lodge ceremony; not found anywhere else. Far more was beholden and experienced at Gaia Sagrada than words can articulate. Thus, what remains is wordless gratitude and silent wonderment. Gaia Sagrada is a place where plant-medicines are held and ingested in the right way, with respect rather than make-believe and with humility rather than platitude. There is nothing to strive for other than to surrender to what is; that is sentient life's wonderment and preciousness…

David Garner January 25, 2018

Magic happens here

I have just been to my third retreat here. It feels like a second home. I'm not sure I'd drink the medicine anywhere else as it's important to do it in a place you completely trust. The shamans and staff are so good and helpful, the food is great and there's lots of it, even though it's ayahuasca friendly. Christine is amazing, Salvador is the best and is always smiling. Plus all the other shamans and staff are amazing. Be prepared to meet new friends and get a real family bond that lasts well after the retreat finishes. I can't imagine a better place to come for these medicines.

Mukky Hudda December 09, 2017

Best Experience of My Life! Would Recommend 1000%

Ill try to keep this short and sweet although i could write a book about this place. it was my first ever Ayahuasca retreat, I stayed here for the five day retreat Dec 2-7 2017 plus an extra day at the end, doing 3 ayahuasca ceremonies and one san pedro ceremony. No issues with getting from the airport to the center, they sent a driver to pick me up. Once there everyone was very friendly and warm, the food was phenomenal, simple due to the recommended diet but they were very creative with making it tasty and not repetitive. The accommodations were also great, hot water in the showers, wifi for those who needed it, books to read, food available 24/7 and the place was very well kept. The ceremonies are beyond words. I didn't know exactly what to expect but i could not have asked for a better experience. It seemed to me while I was doing my research to find a good place, that the whole concept of this plant medicine is becoming very commercialized, however as soon as I found that this place is non-profit, believes in money "karma" and asks us to help out at the retreat center, I knew it was the right one and not only am I happy with the choice I made, I plan on returning in a year for the full 12 day retreat. The shaman who led the ceremony (Salvador) is the most admirable man I have ever met. His presence in and out of ceremony is hard to believe and again is beyond words. The journeys can be very difficult and painful but his guidance really helped me through and allowed me to reap the full benefits of the medicine. The other shamans who accompanied him were equally amazing from their wisdom to their beautiful voices when singing during the ceremonies. Christine, the owner, who is also now a shaman, completed the experience. I wasn't sure what to expect from her as she was visiting her mother when I arrived and I did not meet her until three days after. I was unsure but very curious as to her intentions with starting Gaia Sagrada, but after meeting her, there wasn't an ounce of impurity there. The simplistic living of all those even remotely involved with the center, especially Christine, was evidence that they cared not for materialistic gain and solely wanted to advance in their spiritual paths and help others to do so as well, which explains the power one feels from the moment they step inside. The only thing I would have wanted to be different is to have done the 12 day retreat (which I plan on doing next year). I left feeling spiritually open, emotionally healed, physically cleansed and mentally clear. I cannot thank Christine, Salvador, the other shamans and all those working there enough for the impact this journey has had on my life!

Rebecca F. December 08, 2017

Above and Beyond the Rest!

There really aren't words to describe how amazing my experience at Gaia Sagrada was. I had previously visited two other ayahuasca retreat centers in Peru, and none of them came close to the power, authenticity, support, and healing of Gaia Sagrada. The shamans were legit and amazing. They spoke English and provided a deeper level of understanding and meaning behind the Ayahuasca and San Pedro ceremonies. Often times in Peru, you may have a great Shaman, but they don't speak English or you don't understand what's happening during or after the ceremony. Other times, I've experienced very expensive retreats that have nice conditions and food, but the center lacked authenticity, didn't hold a sacred space for healing, and seemed more commercial or money oriented. Gaia isn't this way, Christine, Salvador and Jerry truly care about humanity and helping others heal so they can be more conscious, loving and peaceful. I attended the 12-day retreat and recommended spending the full 12 days if you can. Gaia is in the Andes mountains and it was one of the most beautiful places I've visited in South America. No mosquitos and clean water was also a plus. Gaia really does have it all . . . great support from staff, a peaceful and safe environment, healthy but tasty food, and authentic and powerful shamans who have a strong relationship with the medicine (which is pure, not mixed with other plants or trees which other retreat centers sometimes do). For me personally, I receive a lot of healing and released some significant blocks and/or energies associated with older memories and abuse. I will be forever grateful to the staff of Gaia Sagrada for providing the space and support I needed to heal. I'm writing this review because I remember debating on a few different Aya retreats when I made the decision to work with this medicine. I noticed that many centers have great reviews. I've now been to three centers and also spoken to many others who have been to multiple Aya retreat centers, including Gaia. Hands down we all agreed that Gaia was the best. Hope this review helps in your selection process.

Ajay Makhija December 07, 2017

Beautiful Magical Healing Space!

I attended the 12 day retreat at Gaia Sagrada & it was amazing. The land is absolutely gorgeous, the people are fantastic and the ceremonies are beautiful. Jerry and all the work-exchangers/staff are some of the best people I have ever met. Christine is a awesome and has created a truly wonderful space for healing. The Shamans are amazing especially Salvador - a wise master walking this Earth. The food is clean and yummy, and very creative to boot. This is truly a life-changing experience. So so so recommended!

jefe hudson November 27, 2017

Transformative

Gaia Sagrada has undeniably changed me. The experience has given me the courage and the confidence to do what I truly want with my life. I no longer fear failure, I no longer want to take the safe easy path through life. I've always been told that that I could do anything I want with my life. I was the only one that said I couldn't. Now I know that I can and I will. It has also showed me that I don't want to spend my life chasing money to advantage myself, I want to make the world a better place, to contribute meaningfully to our shared experience. I have nothing negative to say. Thank you Christine, thank you Jerry, thank you Salvador, thank you to all the staff, all the work exchangers, and all the beautiful people who embarked on the journey with me. ✌❤, until we meet again

Katarina Eleby August 10, 2017

Transformative

This is a retreat center unlike any other. If you are considering participating in an Ayahuasca and San Pedro ceremony, look no further. The attention to detail and value of the retreat center in second to none. Why are you still reading this? Reserve your space today and meet your cosmic family!

tim merrigan May 31, 2017

Great experience

We went to Gaia Sagrada may 2017 retreat 12 day retreat and it was amazing! This place is in the mountains of Ecuador with a beautiful setting. One of the main reasons I decided to go to Ecuador was the ease of getting to the retreat center. I also did not want to fight off mosquitoes in the jungle and in the mountains you did not deal with that. After experiencing this Amazing trip with my 2 boys, I am grateful to all the workers/ Shaman and Christine. They have designed a SAFE and comfortable place for people to do real healing. I also could not imagine if the Shaman did not speak English due to all the interactions that you have with them throughout the ceremonies. This is a place that cares about you and your journey, whatever the purpose looks like.

sherry varghese May 26, 2017

Life changing

My first experience and I could not recommend a more beautiful..tranquil..place for a retreat..the people are wonderful..the shamans are amazing..especially Salvador..I feel the change in me and it's just been a week that I'm back to work and my normal routine..I haven't felt so happy in...i really can't remember how long...can't wait to go back in November..thank you Christine..thank you gaia sagrada..thank you for helping me see..

Amanda Schendel January 08, 2016

The most magical and healing experience of my life

Gaia Sagrada not only exceeded each and every expectation I could have imagined, but it was far and beyond more magical and influential that anyone is able to put into words. I had been looking for a safe, clean and respected retreat for quite and while and had heard many great things about Gaia. However, the beauty, love and care put into this place are just absolutely amazing. I honestly cannot imagine a better center, a more caring owner/operator (Christine) and warmer, smarter and more powerful Shamans and Shamanas. Firstly, the area in Ecuador where you will be is clean, nearly bug-free, and has almost year round perfect weather. The pictures of the center do not do justice to how large and gorgeous it is. Its probably better that way, as the center is almost entirely full months in advance. The beds are comfortable, the bathrooms and showers are huge and always clean, everyone loves to hang out in the "cottage" which has your own kitchen for guests, always filled with fruit, snacks, coffee, tea, etc. There's wifi, a yoga room, a TV room with Netflix and many areas to quietly read or meditate. The grounds are filled with huge trees, hiking paths, beautiful flowers and plenty of areas to explore. Most importantly, the Aya and San Pedro ceremonies with the truly gifted and loving Shamans will transform your life. I was honored to see not only my life and path change, but watch deep hurt, depression and anxiety lift off of people in a mere 10 days. You will be nothing short of amazed by the transformations that take place in this sacred area. Please don't waste time being afraid as many do. If the spirit is calling you, please know that you're in the best of hands and hearts at Gaia Sagrada.

Those people are so nice, the shamans are just magical, and my life has been changed forever! by Katy did.

I just did the Gaia Sagrada September retreat with the Ayahuasca and San Pedro and it was amazing! The price is half what other centers are charging and its 12 days instead of 7 or 8. This place is one i can really recommend. I'm going back next year. It was so pretty there too, and no mosquitos, love THAT. There were fireflies everywhere, clear stars, could see the milky way, the three shamans were just amazing, christ like people. Spoke english too so i could talk to them.