About This Center
Welcome to your yoga retreat in the beautiful hills of Da Lat! Since 2016 the Sivananda Yoga Resort and Training Center has been an oasis of peace and tranquility for people from all walks of life to come and find themselves.
Yoga and meditation are the most effective methods to recharge the body and mind and relieve the tension and stress of modern life. Take time to slow down, enjoy nature and reconnect to a wholesome way of life, re-inspire yourself with new thoughts and perspectives, uplift your spirit with daily chanting, and apply techniques to increase your awareness and joy.
Come for a Yoga vacation of a few days or weeks and gradually walk the path towards the deeper aspects of Yoga – from improving fitness and relaxing to maintaining health, calming the mind, and even becoming a counselor and Yoga teacher for others.
Peaceful and beautiful place, with real yogi life My experience was fantastic. I was able to learn a lot about theory, meditation and Asana practice. People were very kind, helpful and keen to share knowledge. The training center is located in a gorgeous area in the mountains of Da Lat. The food was also great. I can't wait to come back and my daily life has changed with the new things I learnt there. Deborah B October 8, 2017 Rio de Janeiro Chef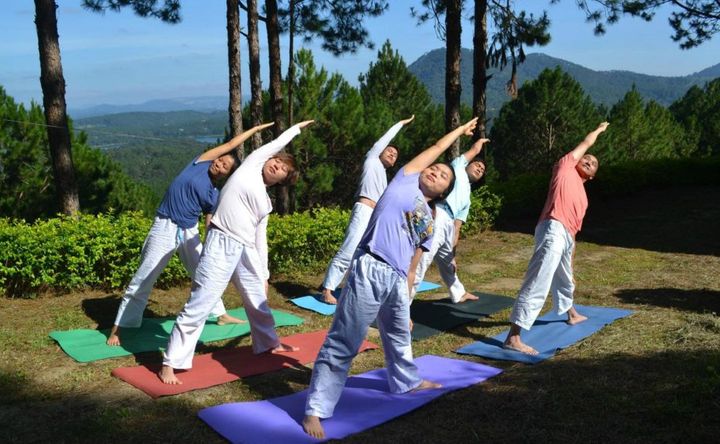 Venue Highlights
Open to guests year round, the Yoga Resort and Training Center welcomes people from around the world, and provides a peaceful setting in which to find a way back to a holistic lifestyle in harmony with nature. Our guests often testify to the effect of a sense of stress relief and the experience of improved physical, emotional, and spiritual health. You can join for a minimum of 3 days, for a week, or longer.
Designed by Yoga Master Swami Sivananda, the daily routine at the Yoga Resort is the core of a practice to restore good health on all levels:
6:00am Satsang – Meditation, Kirtan chanting, Lecture, or Silent Walk
8:00am Asanas and Pranayama
10:00am Vegetarian Brunch
11:00am Karma Yoga
2:00pm Yoga Vacation Workshop
4:00pm Asanas and Pranayama
6:00pm Vegetarian Dinner
7:30pm Satsang – Meditation, Kirtan chanting and Lecture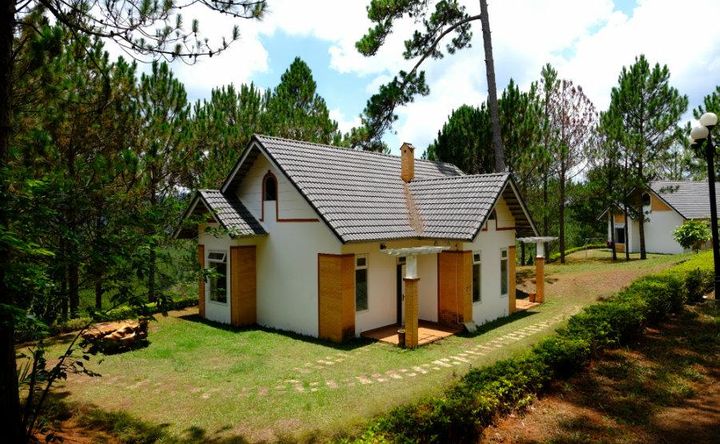 Accommodations
The Sivananda Yoga Resort and Training Center is located amidst the secluded pine forests surrounding Tuyen Lam Lake, close to the hill-station town of Dalat, Vietnam, famed for its moderate climate and scenic beauty. The fresh air and silence of the forest location have moved many to remark on the healing atmosphere.
The location offers opportunities for walking, with several vantage points from which the local countryside can be admired. Regular walks up on the mountainside in the early morning, in time to watch the sunrise, or in the evening enjoy the light of the full moon or for star-gazing, are popular events in our program. On warmer evenings we often enjoy meditation outdoors in the light and warmth of a campfire. Close to our main Yoga hall a classical walking labyrinth provides a place for contemplative walks.
Guests are housed in villa-style buildings, each with 3-5 separate rooms, that are spread over the property. Accommodation is simple, providing basic comforts. Bedding and towels are provided. Please note that housekeeping services are not provided during your stay.
Guest accommodation is provided in villa-style buildings, each with several rooms, that are situated in the forest area. All rooms have attached bathrooms. Single occupancy is available, we also have some double rooms, other rooms have 3-4 beds.
Facilities are simple, providing basic comfort. There is no air conditioner or heater provided. Please note that we do not provide housekeeping services for your room during your stay.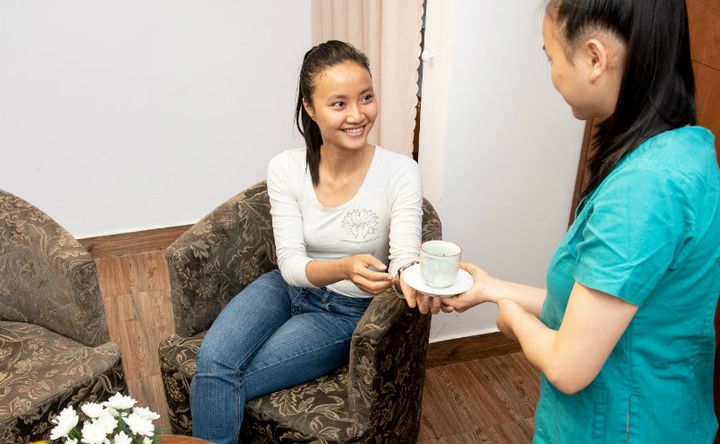 Amenities
Free Wifi
Towels
Yoga Studio
Menu Types
Vegan
Vegetarian
Ayurvedic
Organic
Gluten Free
Dairy Free
Nut Free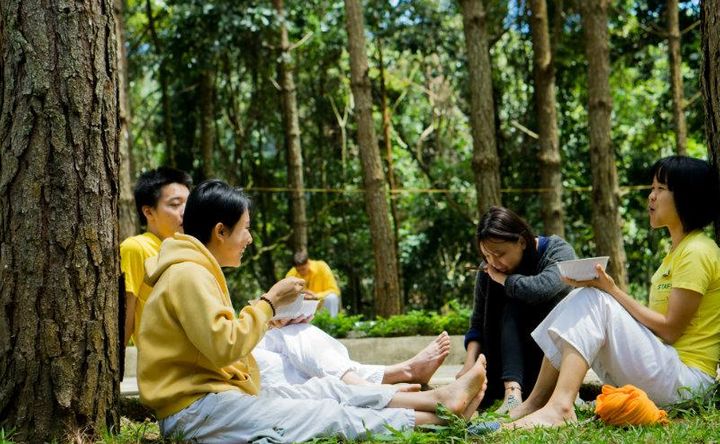 Menu/Cuisine
The Yoga Resort uses mostly organic, locally produced vegetables. Meals at the ashram are freshly prepared with love and care by dedicated karma yogis. Following Yoga tradition, meals are vegetarian, including a limited amount of dairy items. Eating a plant-based diet has been conclusively shown to be good for health and well-being, it is detoxifying and nutritive at the same time.
Meals are offered at 10:00 am and 6:00 pm, with a small fruit snack served in the afternoon. Additional snacks are available in the boutique if needed.
In the case that you have special dietary restrictions please mention on your application form and we will do our best to accommodate you.
Please note that meat, fish, alcohol, tobacco, coffee, black tea, and eggs are not served in the Yoga Resort. We ask guests not to bring these items onto the Yoga Resort property.
Directions
By air
Dalat Lien Khuong airport, 45 minutes drive
from the Yoga Resort, is served by daily flights
from major cities in Vietnam. International
travelers are advised to fly to Ho Chi Minh
City, from where there are many connecting
flights to Dalat. Pick up from Dalat Lien
Khuong airport by a local taxi company can
be arranged.
By road
Dalat is 300 km from Ho Chi Minh, 660km
from Da Nang, 135km (3 hour drive) from Nha Trang/Cam Ranh, the closest beach town.
Reviews
Write a review - tell others about your experience.