About This Center
The Haven is a centre for transformative learning, located on beautiful Gabriola Island in British Columbia, Canada. Revitalize and realize your full potential, live life more fully!
We love Retreat Guru and will have more of our programs listed here soon. For now, please visit (contact info blocked).
We offer programs in a group setting, focusing on self-responsible relational living. Our innovative approach and highly skilled faculty have inspired thousands to define and shape their lives.
Experience Come Alive, 5 transformative days on beautiful Gabriola Island, British Columbia. If you're ready to shake things up, and try something different, this is the program for you. Here's what participants say about Come Alive.
The video series Haven Portraits: Stories of Transformation offers a glimpse into the lives of people who have participated in programs and training at The Haven. They share their experiences and the impact of living what they have learned … real people, profound change.
I was skeptical as to what to expect but from the first meeting, I was so glad I had made the decision to attend. The results were life changing. I now have a sense of peace that I've never experienced through a greater understanding of myself and my relationships. I feel free, wow! - M.J.
Venue Highlights
With rooms by quiet coastline waters and rustic cabins tucked away among the trees, you will feel far from the hustle and bustle of daily life.
Our property and facilities are designed to support our program participants and facilitate the delivery of our educational programs. Although we may not be able to offer all of the luxuries that you may associate with a resort hotel, we do offer the basics and a wonderful natural environment where you can enjoy quiet comfort.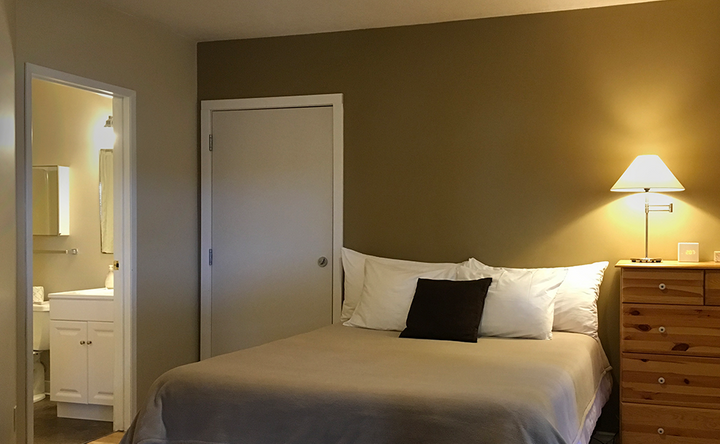 Accommodations
Thunderbird dormitory is our most economical option. Each dorm pod accommodates up to 6 people, and each pod has its own washroom. Bunks are single over single, with extra-long mattresses. Dorm pods are separated by gender. The Thunderbird dormitory is only available for participants registered in a program at The Haven. From July to mid-August, the dorms are reserved for our Youth Programs.
Basic rooms are simply furnished, comfortable and economical. They have two singles or one double bed, ensuite, no TV. Basic rooms are designed to be shared by two or three people, with beds in the same room and a shared bathroom. A Basic room may also be booked as a private room.
Forest View rooms are nestled in attractive forested areas of The Haven property. Larger than our Basic rooms, Forest View rooms are designed to be shared by two or three people, with beds in the same room, a TV and private bathroom. A Forest View room may also be booked as a private room.
Ocean View rooms offer spacious, well-equipped and comfortable accommodation looking out over the beach and waters of Taylor Bay. There is a TV in each room, a full kitchen or kitchenette, and private bathroom. Most Ocean view rooms have a deck. Although Ocean View rooms are usually booked as private accommodations, you may be able to share an Ocean View room if you and another program participant both request to be each other's roommate.
Many people find that having a roommate enhances The Haven experience. For some, it's the start of a long friendship.
If you choose Basic or Forest View shared accommodations and wish to stay with a particular person, please provide that person's name when you complete your on-line registration. Please ask your preferred roommate to do the same. Ocean View rooms may only be shared if both guests request each other by name as roommates when booking.
If you choose the Dormitory, or if you choose Basic or Forest View shared accommodations and would like us to find a roommate for you, we assign rooms as men only, women only, or gender neutral.
We make every effort to meet the needs of all our guests, but cannot guarantee specific rooms.
Amenities
Free Wifi
Pool
Free Parking
Hot Tub
Coffee/Tea
Restaurant
Fitness Center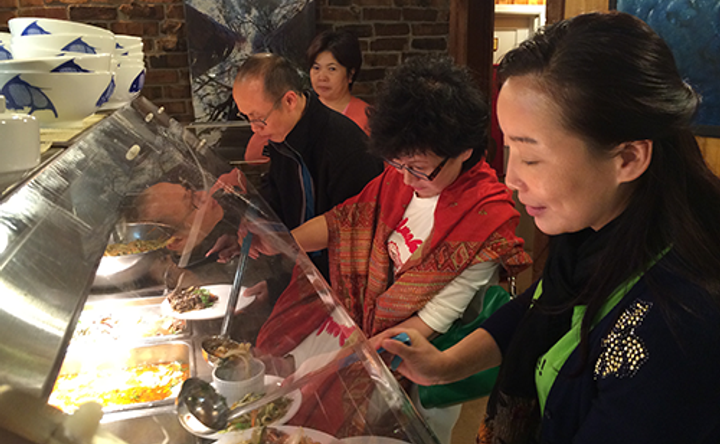 Menu/Cuisine
Our goal is to support you and your fellow program participants with delicious, nutritious meals - healthy, nutrient-packed options for your pleasure and well-being. We strive to feature whole, naturally-energizing foods; avoid the use of refined sugars and other highly-processed ingredients whenever possible; and, in line with both health and environmental recommendations, provide healthier cuts and portions, and reduce the amount of animal protein overall.
We serve three buffet-style meals a day in our ocean view dining room. Mealtimes: breakfast 8 - 9 AM; lunch 12 - 1 PM; and dinner 6 - 7 PM.
Directions
The Haven is on beautiful Gabriola Island, one of the Southern Gulf Islands of British Columbia. Gabriola Island is 20 minutes via BC Ferries from Nanaimo or 20 minutes by float plane from Vancouver.
Reviews
Write a review - tell others about your experience.