About This Center
In Lupuna Ayahasca Center we focus on healing - spiritual healing that leads to physical healing. You may believe there is no help for you, you have lost all your hope and belief - you have suffered from anxiety, depression, addictions, PTSD or physical diseases and tried everything out there. And you came across ayahuasca. We see people with these conditions and other conditions healed every day through ayahuasca ceremonies. Have faith there is always a solution.
Our 3 powerful Shamans (Jauriman, Nilton, Kev from Australia) make sure you get what you need to have a happy life you deserve. Then it is up to you, if you allow the change in your life :)
We are unique in having the max number of ceremonies in minimum days, 3 shamans, max. of 10 participants, each of you stays in a spacious single cabin with its own toilet, shower, wash basin. This is very rare, usually you have to share a room and bathroom with more people, there would be 20 - 50 people in the ceremony. We have a different approach to healing. If you have experience with ayahuasca, you know the advantage of not sharing your accommodation and bathroom.
You can watch video reviews on our website and a video from our ceremony.
Master Shamans
Each ceremony is performed by two Maestros: Nilton Torres Bardales and Jauriman García Torres who has been doing this for over 20 years, countless ceremonies, these two shamans along with Kev are unstoppable. They cook ayahuasca themselves on site to ensure its potency.
San Pedro, Kambo, Sanango diets
If you wish in each retreat San Pedro (all day), Kambo (20 minutes) is included. In a 12 day retreat you can also do Sanango diets and a few ayahuasca ceremonies.
INTEGRATION
Every day after the ceremony we talk about your experience in an informal friendly way, one on one or in a group, with shamans and therapist, spiritual guide and healer Katerina Townes. After the retreat we keep in touch.
I received 150% more than I imagined. Tanya, Australia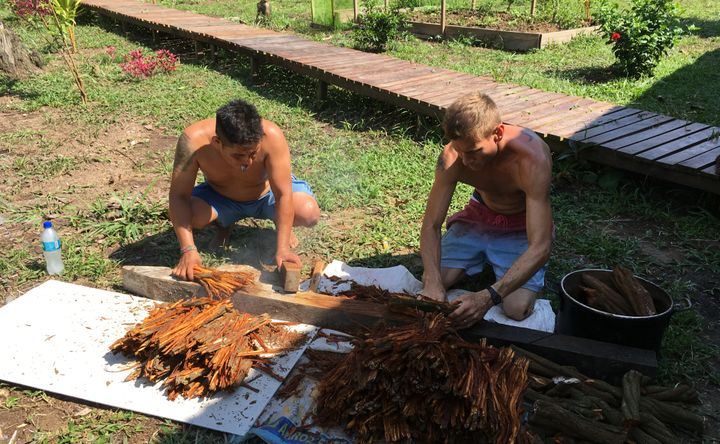 Venue Highlights
Ayahuasca Lupuna Retreat is focused on healing. We are located right in the jungle to give the real jungle experience, however, it's designed to be safe - walkways everywhere so you don't need to worry where you step. You can see blue morphos flying around. It's only 30 minutes from Iquitos by boat and then beautiful new road to the retreat. We keep working on the retreat, improving things, we just love what we are doing and you can feel it when you come and see us. When you do ayahuasca, you may experience purging effects. That's why, unlike most retreats, we have single cabins with flushing toilets and showers. Believe us, you don't want to share accommodation with other people while doing ayahuasca or run to the shower located far away. Our shaman prepares ayahuasca himself and makes sure the ceremony is safe and just right for you, the group is max. 10 people so the retreat is more personal. The ceremonial house is very large, one of the largest actually, that gives you a lot of space around so you are not disturbed by other people during the ceremony as is the case in most retreats.
In longer retreats you can do shorter retreats as long as beginning or end matches the longer retreat date.
Accommodations
Private cabins for 1 person, 2 people per request.
Each cabin has a large double bed, mosquito net, hammock, shower, flushing toilet (in retreats there usually is no running water so no flushing toilets), veranda.
Towels are not provided.
Laundry - we can do for you.
Amenities
Kitchen
Coffee/Tea
Ceremony Space
Menu Types
Vegan
Vegetarian
Meat
Gluten Free
Dairy Free
Nut Free
Menu/Cuisine
Ayahuasca diet is specail - no salt, no sugar, no caffein, only fruits, vegetables, rice, eggs, chicken, fish, water.
Directions
From Iquitos airport (Lima to Iquitos, 1.5 hours) you take a mototaxi (about 15 soles) to your hotel in Iquitos and we will pick you up and take to our center on the day of the start of the retreat, about 10 am.
Reviews
Write a review - tell others about your experience.