Event
About This Center
Being the leading sustainable ecolodge in the Yasuni Biosphere Reserve, La Selva Amazon Ecolodge & Spa sits on the shores of Garzacocha Lagoon in the heart of the Ecuadorian Amazon. The spacious accommodations are architecturally inspired by indigenous and native design, along with luxurious amenities and renovated spa, the lodge has captured the essence of both beauty and tranquillity of the rainforest; making La Selva a leading south American destination. The experienced staff, Bilingual Natural Guides, and Native Guides are committed in providing an unforgettable experience in every excursion and activity. For over thirty years, La Selva has been welcoming guests from all over the world. On foot and by water, guests explore the most biodiverse region on the planet: Ecuador's Amazon Basin; home to thousands of unique species of plants and animals.
The La Selva EcoLodge is a gem in the heart of the Amazon Rainforest! My wife and I stayed for four nights and it was one of the best vacation experiences of our lives.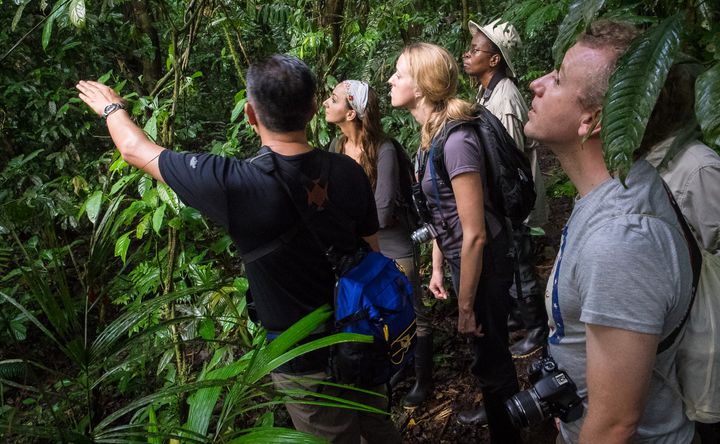 Venue Highlights
At La Selva, your day is based on a wide variety of activities to your liking. One of these activities are daily excursions, on both land and water. Your group will always be accompanied by an English-speaking naturalist guide and indigenous guide while exploring the trails, lagoon and rivers of the Amazon rainforest in search of amazing wildlife. Among some of the activities La Selva has to offer are; birdwatching, hiking, observation tower, massages, canoe excursions, yoga by the water, and wildlife observation.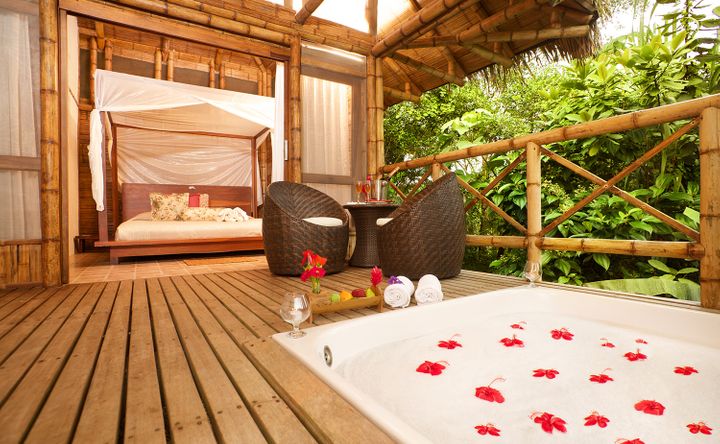 Accommodations
La Selva Amazon Ecolodge & Spa has 19 spacious suites, including three scenic suites with a view of Lake Garzacocha and roomy family suites for those who have brought their children along on their Amazon adventure. The Scenic and Superior Suites include exclusive rainforest showers, private balconies and great panoramic views, while the Family Suites include extra-spacious bathrooms, hammocks and a tub on a private porch. The design of our suites are inspired by local homes used by the natives for generations: the airy, shady layout keeps things cool even in the hottest hours of the day. In the bathrooms, amenities such as hair dryers and shampoo, conditioner, and soap are included. Hot showers, ceiling fans and electricity are provided in each suite also. At La Selva, we are deeply committed to sustainable ecotourism and keeping our impact on the environment to a minimum. Therefore, we do not have air conditioners in the rooms. There are, however, large windows and a ceiling fan which keeps the air in the suites circulating. As an added bonus, the fans are fairly quiet, allowing you to hear the soothing sounds of the jungle at night!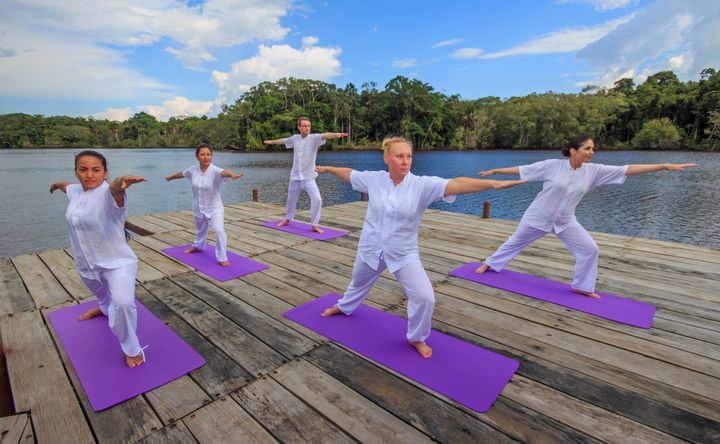 Amenities
Free Wifi
Spa
Towels
Tour Assistance
Hot Tub
Coffee/Tea
Restaurant
Yoga Studio
House Keeping
Ceremony Space
Menu Types
Vegan
Vegetarian
Pescetarian
Ayurvedic
Meat
Organic
Gluten Free
Dairy Free
Nut Free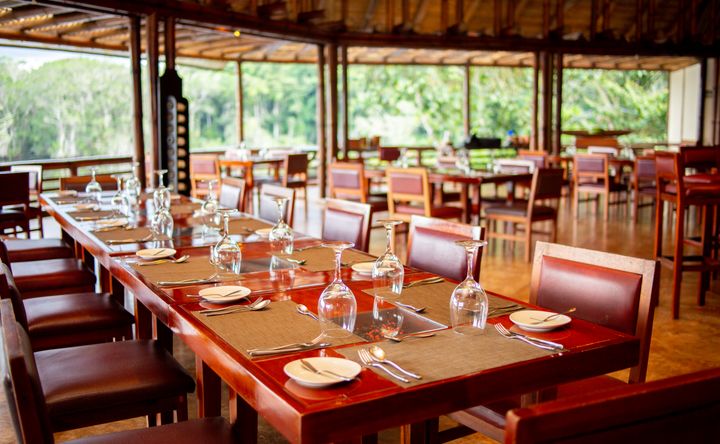 Menu/Cuisine
At La Selva we take great pride in the quality of the meals and beverages we present to our guests. Our talented chefs use fresh ingredients and local produce for daily meal preparation, promising a genuine experience in Ecuadorian and International gastronomy. It is our commitment to guests to be able to provide a memorable experience in the Amazon right down to the food and it is for this reason that we can accommodate any special diet whether a guest may be vegetarian, vegan, gluten-free or kosher.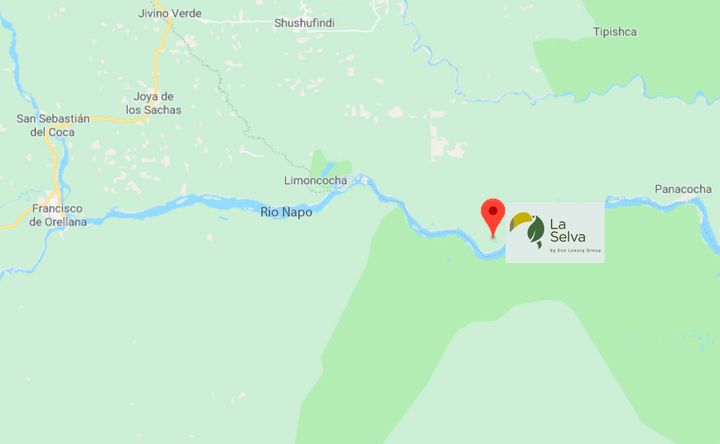 Directions
Upon your arrival to the International Airport Mariscal Sucre in Quito, Ecuador, a La Selva representative will assist you through the check-in process for your 35 minute flight to the small town of Coca in El Oriente, or the Amazon. Once you are checked in you will receive a brief explanation as to what to expect for the rest of your trip until arrival. Upon landing at the airport in Coca, you will pass through baggage claim and then a La Selva representative will be waiting for you in order to lead you to the transportation that will ultimately take you to the river dock. Here a La Selva's motor canoe will be waiting for you to board with the guide and other La Selva representatives. You'll board with life jackets and along the way you'll be given a boxed lunch and there will be coolers filled with refreshing beverages to your liking. After this breathtaking ride down the river as your first introduction to the Amazon, staff will direct the motor canoe to La Selva's private boat landing. After you disembark there is a chance to use the restrooms and then from there La Selva staff will take care of all your luggage upon your arrival to the lodge. There is about a 10 minute walk to where more La Selva staff will be waiting your arrival in order to paddle you the rest of the way to the lodge in real authentic canoes made by the natives. This ride is about 20 minutes and finally opens up into the lagoon revealing La Selva Amazon Ecolodge & Spa on the other side.
Reviews
Write a review - tell others about your experience.