4D/3N Getaway in the Ecuadorian Amazon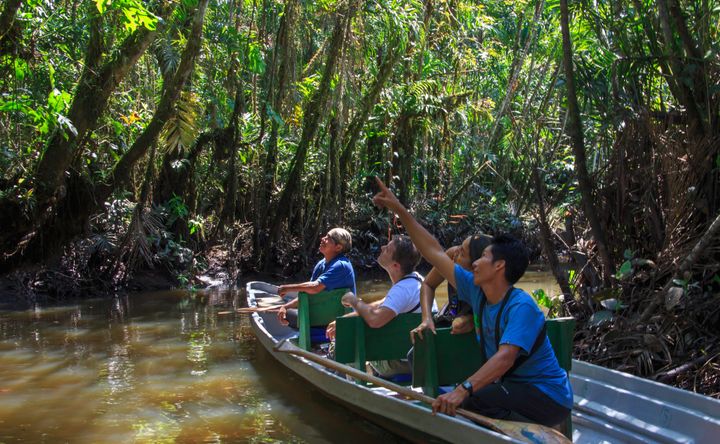 Event Highlights
During this event you will be asked to participate in various activities like; hiking through the amazon on different trail, nocturnal walks, birdwatching at our private observation tower, canoe rides, kayaking, swimming, pirana fishing on the lake, visit to a native community, among others. Your participation in these activities will be scheduled by your group or private guide and will be subject to change depending on different factors. Yoga, and Spa Sessions have additional costs and can be scheduled at the time of purchase. see website for detailed Spa treatments or Yoga sessions and prices accordingly.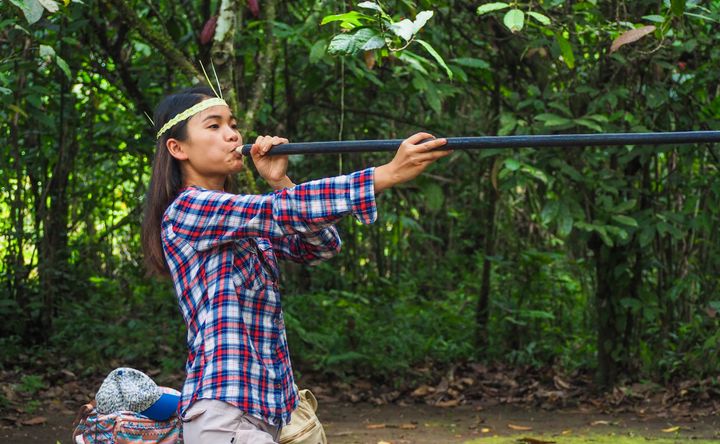 Schedule
• Day 1: Arrival At the Quito International Airport you will be met by one of our La Selva representatives in the National departure area. Here they will assist you with the check-in process and give you a short briefing about the journey.
o 4:30 pm - Intro To The Rainforest One of the Naturalist Guides will give you basic info about the tropical rainforest, the Amazon, and how La Selva operates. The idea is to begin your activities with background knowledge of the amazing place you have just arrived to.
o 5:00 pm - Matapalo Trail This trail was given the Spanish name of the famous Strangler fig (Ficus sp), one of many remarkable trees that you can find on this short walk. Mahogany trees over 400 years old can be seen and your guides will share their knowledge of the flora and fauna. Due to the time of day there is great natural light and the diurnal and nocturnal animals are beginning their daily transitional activities.
o 7:00 pm - Snacks At the bar you can find snacks and order cocktails from the bartender. Or, feel free to help yourself to limitless tea and coffee.
o 7:30 - Dinner Dinner will be served at this time. Find your seat and get comfortable while our waiters serve you each course.
• Day Two: Full Day of Activities
o 6:00 am - Wake Up Call
o 6:30 am – Breakfast
o 7:00 am - Observation Tower/Tucaneta or Mandi Forest After a 20 minute walk the observation tower comes into sight. This amazing construction will allow you to climb 120 ft above the forest. Your Naturalist and Native guides will help you spot the colorful birds of the Amazon, maybe even certain primates. On the way back from the tower there is the option of taking the Tucaneta Trail where your Native Guide can show you some of the medicinal plants still in use today and your Naturalist Guide will provide you with interesting info on the ecology and natural history of the Amazon. There is also the option of visiting the beautiful lagoon of Mandi Cocha. A hike of about 1 hour takes you to the lagoon where an Igapo Forest is present, meaning that the forest is temporarily flooded by black water. Different species of birds and even giant otters can be seen here.
o 1:00 PM – Lunch
o 4:30 pm - Charapa Trail This trail goes on for about an hour beginning at the lodge and ending by the edge of the lagoon. It is a great loop where different mammals, monkeys and birds can been seen that come closer to the lagoon at this time looking for food. It is also perfect for witnessing an Amazonian sunset from the water in the canoe.
o 6:40 pm - Night Canoe Ride With the help of a spot light your guides will take you around the lagoon via canoe looking for nighttime wildlife. This is also a great opportunity for star gazing!
o 7:30 pm – Dinner
• Day Three: Full Day of Activities
o 6:00 am - Wake Up Call
o 6:30 am – Breakfast
o 7:00 - Parrot Clay Lick and Mandi Wasi Today you will make your way back to the Napo River and take a motorized canoe ride to the clay licks, one of the most fascinating displays of the wild world. Hundreds of parrots and parakeets gather here to eat the mineral rich soil, an important part of their diet. Binoculars are essential to really capture the moment. After the clay licks we will take you to experience our Cultural Activity. An Amazonian Kichua woman will welcome you at their community center to share their life of the Kichua's in the Amazon. This is special because it is part of the Amazon you do not find on the maps and provides the special and unique opportunity to really get to learn more about the people of the Amazon.
o 1:00 pm – Lunch
o 4:30 pm- Garzacocha Lagoon and Ceiba Trail This is one of the most beautiful lagoons in the Ecuadorian Amazon. Here there are many chances to see monkeys and birds and sometimes families of squirrel monkeys join capuchin monkeys looking for food. The tremendous calls of the Howler monkeys can be heard in the afternoon and the smallest monkey in the world, the Pigmy Marmoset can be seen here too. Plenty of birds like the Hoatzin, toucans or macaws can also be seen flying overhead.
o 6:30 pm- Nocturnal Walk On a night walk we give you the chance to enjoy the creatures and sounds of the Amazon Jungle at night. Sometimes we can see amazing things during this activity. Make sure you bring a flashlight for this fantastic experience.
o 7:15 pm - Departure Briefing Our manager will provide you all the necessary information about your departure procedure for the next morning.
o 7:30 pm – Dinner
• Day Four: Departure Day
o 6:00 am - Wake Up Call
o 6:30 am – Breakfast
o 7:00 am - Departure for Coca In accordance to your briefing the night before, you will have an early wake up call, breakfast and departure from the lodge. The lodge staff will assist you with your checked luggage and the motorized canoe ride will head upstream back to Coca, where our representatives will take you to the airport to help you with your checked luggage and boarding passes
About This Event
Wether its participating in all the activities or just relaxing with yoga sessions and spa treatments, La Selva can accommodate your needs accordingly to fulfill your expectations. La Selva's flexibility in whether you want to partake in each activity allows our guests to enjoy the amazing amazonian region while at the same time doing what suits them best. Within this 4 day package we have various activities that will be planned according to the weather conditions, group sizes, or individual physical conditions. Get ready to experience the amazon in the most luxurious way possible.
We had a wonderful time on our 5 day stay at La Selva. Tucked away far from city life in the Amazonian jungle. Lots of great hikes and animal sightings.
What's Included
Airport assistance Quito and Coca.
Transfers during your stay.
3 nights at La Selva Jungle Lodge & Spa.
All Meals.
Guided Excursions with Bilingual Naturalist Guide + Native Guide: Observation Tower / Tucaneta Trail.
Walk to Mandhi Cocha Lagoon.
Walk on Charapa Trail.
Nocturnal Activities.
Kayaking and canoeing.
Motorized canoe ride to Parrot Clay licks and Mandi Wasi.
Visit to local kishua community.
Visit to Lake Garzacocha and Ceiba Trail.
Water poncho and rubber boots.
What's Not Included
Souvenirs and personal expenses.
Tips.
Alcoholic and bottled beverages.
Airfare Quito - Coca - Quito.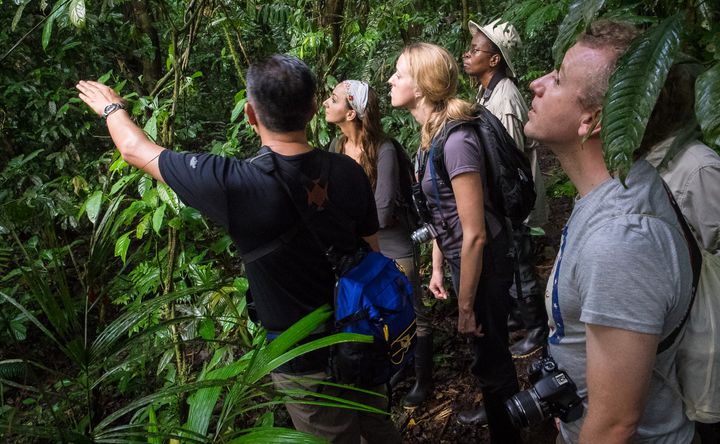 Venue Highlights
At La Selva, your day is based on a wide variety of activities to your liking. One of these activities are daily excursions, on both land and water. Your group will always be accompanied by an English-speaking naturalist guide and indigenous guide while exploring the trails, lagoon and rivers of the Amazon rainforest in search of amazing wildlife. Among some of the activities La Selva has to offer are; birdwatching, hiking, observation tower, massages, canoe excursions, yoga by the water, and wildlife observation.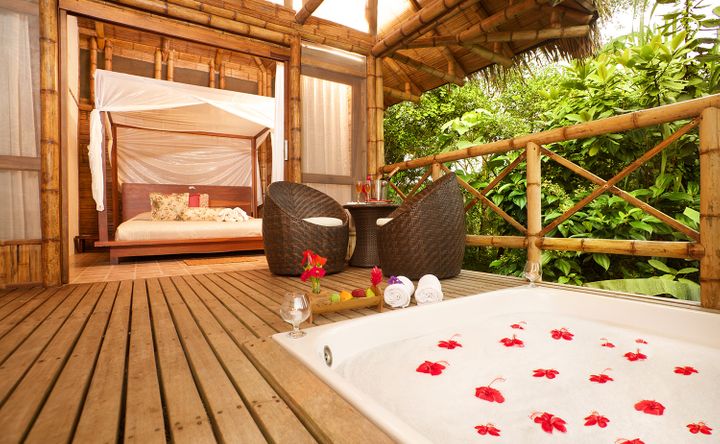 Accommodations
La Selva Amazon Ecolodge & Spa has 19 spacious suites, including three scenic suites with a view of Lake Garzacocha and roomy family suites for those who have brought their children along on their Amazon adventure. The Scenic and Superior Suites include exclusive rainforest showers, private balconies and great panoramic views, while the Family Suites include extra-spacious bathrooms, hammocks and a tub on a private porch. The design of our suites are inspired by local homes used by the natives for generations: the airy, shady layout keeps things cool even in the hottest hours of the day. In the bathrooms, amenities such as hair dryers and shampoo, conditioner, and soap are included. Hot showers, ceiling fans and electricity are provided in each suite also. At La Selva, we are deeply committed to sustainable ecotourism and keeping our impact on the environment to a minimum. Therefore, we do not have air conditioners in the rooms. There are, however, large windows and a ceiling fan which keeps the air in the suites circulating. As an added bonus, the fans are fairly quiet, allowing you to hear the soothing sounds of the jungle at night!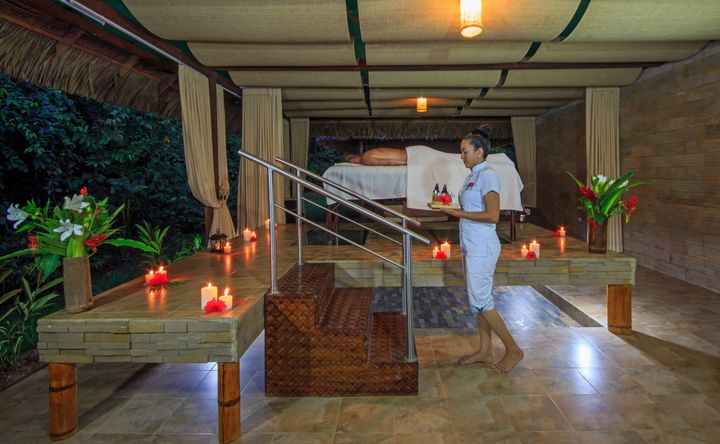 Amenities
Free Wifi
Spa
Towels
Tour Assistance
Hot Tub
Coffee/Tea
Restaurant
Yoga Studio
House Keeping
Ceremony Space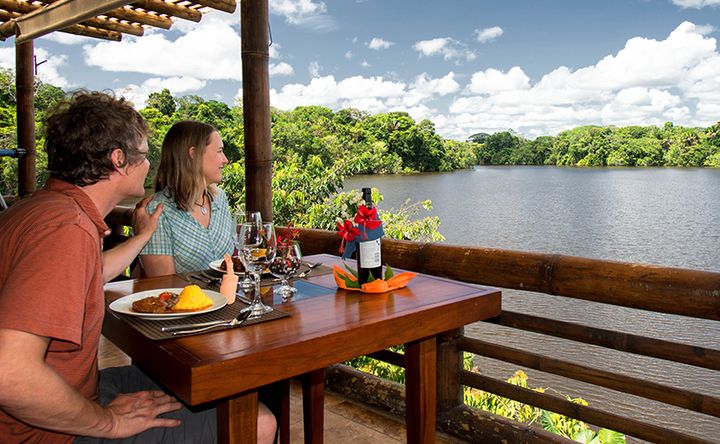 Menu Types
Vegan
Vegetarian
Pescetarian
Ayurvedic
Meat
Organic
Gluten Free
Dairy Free
Nut Free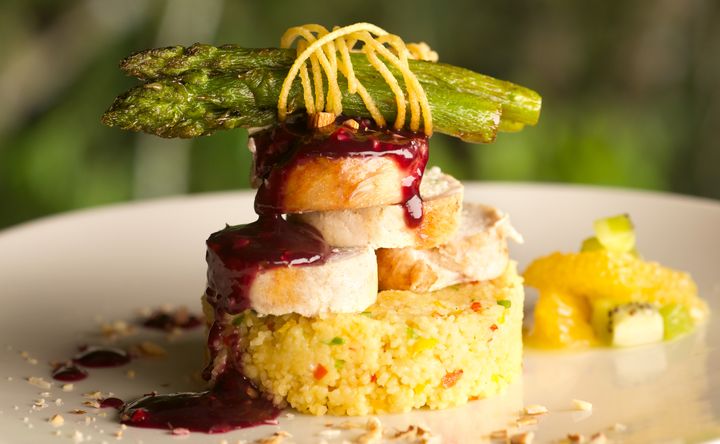 Menu/Cuisine
At La Selva we take great pride in the quality of the meals and beverages we present to our guests. Our talented chefs use fresh ingredients and local produce for daily meal preparation, promising a genuine experience in Ecuadorian and International gastronomy. It is our commitment to guests to be able to provide a memorable experience in the Amazon right down to the food and it is for this reason that we can accommodate any special diet whether a guest may be vegetarian, vegan, gluten-free or kosher.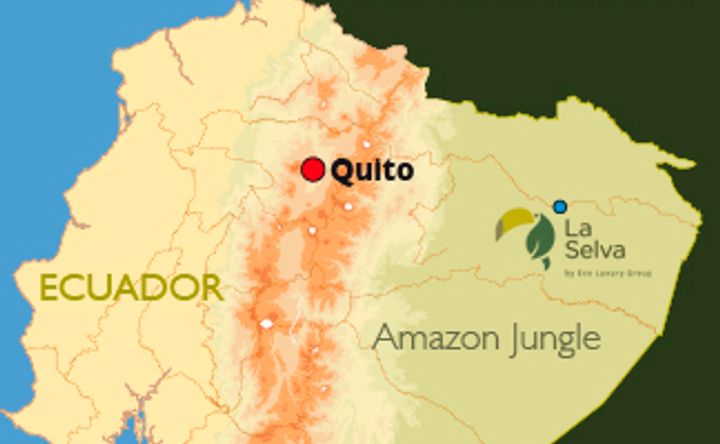 Directions
Upon your arrival to the International Airport Mariscal Sucre in Quito, Ecuador, a La Selva representative will assist you through the check-in process for your 35 minute flight to the small town of Coca in El Oriente, or the Amazon. Once you are checked in you will receive a brief explanation as to what to expect for the rest of your trip until arrival. Upon landing at the airport in Coca, you will pass through baggage claim and then a La Selva representative will be waiting for you in order to lead you to the transportation that will ultimately take you to the river dock. Here a La Selva's motor canoe will be waiting for you to board with the guide and other La Selva representatives. You'll board with life jackets and along the way you'll be given a boxed lunch and there will be coolers filled with refreshing beverages to your liking. After this breathtaking ride down the river as your first introduction to the Amazon, staff will direct the motor canoe to La Selva's private boat landing. After you disembark there is a chance to use the restrooms and then from there La Selva staff will take care of all your luggage upon your arrival to the lodge. There is about a 10 minute walk to where more La Selva staff will be waiting your arrival in order to paddle you the rest of the way to the lodge in real authentic canoes made by the natives. This ride is about 20 minutes and finally opens up into the lagoon revealing La Selva Amazon Ecolodge & Spa on the other side.
---
Cancellation Policy
100% deposit refund for cancellation 60+ days before event.
50% deposit refund for cancellation 30-59 days before event.
0% deposit refund for cancellation 0-29 days before event.
The remaining balance (total price minus deposit) is due upon arrival.
Get full details...
Reviews To review this event, visit the page for the venue or retreat leaders (above).
Similar Retreats You Might Like

Thank you!
We're glad you've joined our retreat community. See you around :)
Return to my event
×