About This Center
THERE IS SOMETHING YOU CAN DO do to ameliorate the FOREST FIRES NOW RAGING IN THE AMAZON, COME TO BOLIVIA FOR YOUR NEXT HEALING/SHAMANIC/SPIRITUAL RETREAT.
ALMOST NOBODY COMES TO BOLIVIA, yet it is the most Indigenous country in South America, has the highest indigenous population and a Native President. It has the most pristine environments, very few tourists and very authentic, sincere and genuine people as well as wonderful healing retreat centers and sacred ceremonies.
There is something very special happening in Bolivia, kept under the radar until now and ready to be shared with the world by the Sacha-Runa Shamanic Healing Community: Sacha Runa team working for more than 30 years serving with Respect, Love, Devotion, Surrender to help people connect to the Light and their inner truth, manifest their potential and fulfill their destiny. Connect to Source, Receive Vision and Wisdom, and Bless All of Creation.
Warriors of the New Time. Intensive Retreats and Trainings. Bolivia Mistica and the Sacha Runa Healing Community offer Healing and Training Retreat (21 days) BOLIVIAN ANDES & AMAZON.
Also ongoing 3, 5, 7, 10 or more day retreats. Guided by Miguel A. Kavlin, Phillip Josey, Angela Muñiz and Juan Macome.
MAKE A DIFFERENCE, COME SUPPORT BOLIVIA. Healing-Retreats, Shamanism, Stunning Locations, Sacred Ceremonies, Exquisite Healers. Heal, Nourish Your Soul, Connect to Source.
Located just 40 minutes from La Paz, at 3,800Mts (13,000ft) above sea -level, Allkamari is located on the Canyon and Lagoon of the Souls, a sacred place to the Aymara inhabitants of the Andean highlands, who come here to offer burnt-offering ceremonies to the imposing Mountain Gods that overlook our Valley, Mount Illimani and Mururata.
We have built our center respecting the sacredness of the place and honoring the energies that surround us, enlisting them for the porpouse of healing, nourishing and welcoming all our guests.
Our structures are built mostly of locally manufactured adobe in unique vaulted-ceiling designs with passive solar heating, providing a wonderful warm and nourishing atmosphere, perfect for relaxation, inspiration and introspection.
From Allkamari you can access walking or cicling trails(easy, medium and difficult), as well as Inca Trails that cross the Andes into lush semi Tropical Valleys with
the most breathtaking view imaginable!
We are also working with our neighboring Aymara village of Camiraya to help them create a cultural tourism company to ensure an economic future for themselves, while preserving their traditional lifestyle.
We offer:
Passive solar heating.Dormitory style accomodations.Double rooms with private bathrooms.Matrimonial suites.Family cabins.Hot showers.State of the art jacuzzi and sauna.Lovingly prepared national andinternational cuisine.Organic Greenhouse.Incredible views of the Andes.Large Conference and Workshop Center.Tibetan Stupa and Meditation Room.Learn about Aymara cosmology, beliefs and rituals.
Optional Activities:
Trekking: half day, full day and three day.Hiking.Mountain Biking.Horse Back Riding.Andean and Amazonian Shamanic Rituals. Ayahuasca, San Pedro, Sweat Lodges, Vision Quests, Sun-Moon Dance. also at jungle camp upriver from Rurrenabaque. You may participate in one ceremony or longer retreats with 3, 5 or 7 ceremonies,usually every other day, or month-long retreats.
Therapies (Massage, Reflexology, Reiki, etc.)
Yoga, Tai-Chi, Meditation, etc.
#ShamanicRetreat, #ayahuasca, #wachuma, #SpiritualRetreat, #Bolivia, #DivineLight, #Healing, #shamanicHealing, #Shamanism
I've been coming to Sacha Runa on and off for some years and I have to say Sacha Runa its the safest and more authentic medicine center I could find in all of Bolivia. Years ago I had the chance to take the 'Shamanic Intensive Training' with Miguel and it was a really positive life changing experience for me.
Venue Highlights
Boutique Eco Resort "Allkamari" is ideal fora retreat.. Its location near the city of La Paz, the exceptional beauty of its landscape, exquisite design of its infrastructure, the tranquility and silence of its surroundings and the powerful energies of the land make any occasion a special one.
Our buildings are finely designed and elaborated using local materials, with the goal of making them comfortable, elegant and fitting for a wonderful visit.
One of the basic concepts behind our structures is energy efficiency and conservation. The buildings made of clay in the La'kauta fashion passively store solar power, which in turn is used to heat our rooms and spaces at night.
The Palca Canyon, "el Valle de Las Ánimas" and the Laguna de Las Ánimas, are considered natural monuments by the department of La Paz and therefore there is an effort to protect their geological formations, flora, and fauna.
Boutique Eco Resort "Allkamari" is an experience you won't want to miss. The beauty, magic and mysticism of our place will ensure you have a peaceful, comfortable and life transforming stay.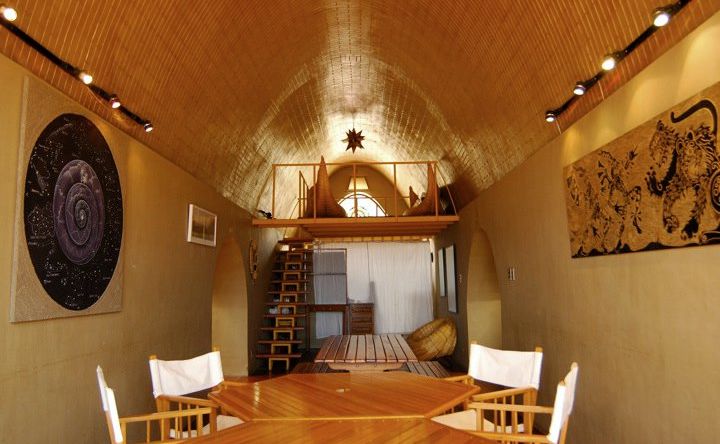 Accommodations
We have double cabins with private solarium terrace with views of the Andes, also Cuádruple rooms .
All adobe dome-shaped exquisitely and uniquely designed and comfortable.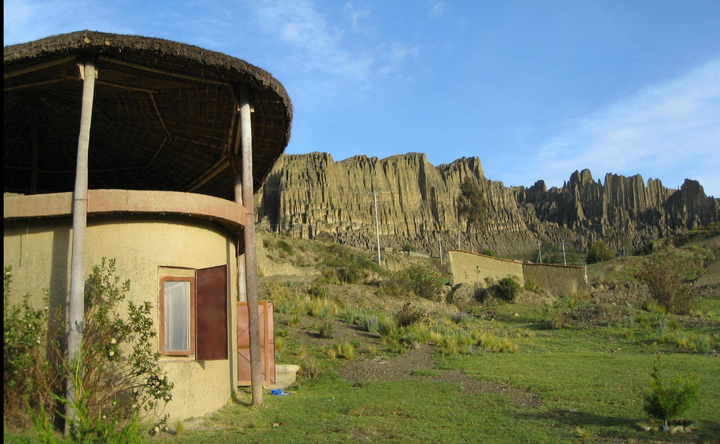 Amenities
Free Wifi
Spa
Sauna
Free Parking
Kitchen
Hot Tub
Cafe
Restaurant
Yoga Studio
House Keeping
Menu Types
Vegan
Vegetarian
Meat
Gluten Free
Dairy Free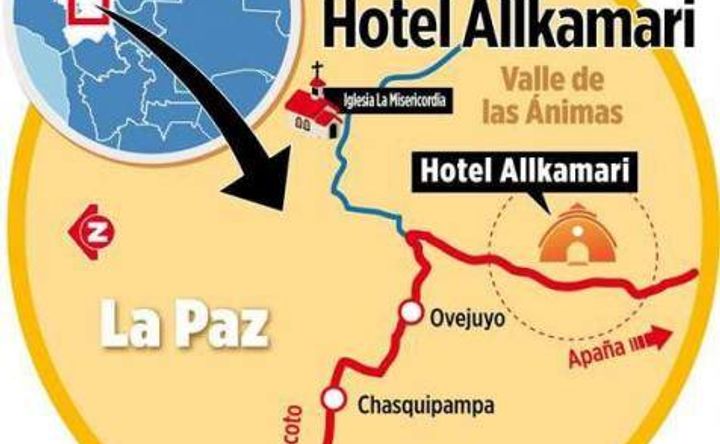 Directions
45 minutes from downtown la Paz, just far enough to be quite and peaceful, yet close enough for all the modern conveniences.
Nestled between sacred mountains and the Valley and Lagoon of the Souls, this is a unique spot that aymarás every year come to offer burn-offerings to propitiate good health, happiness and well being.
The map tells you how to get there.
Reviews
Write a review - tell others about your experience.
Juan Macome March 22, 2015

Metamorphosis, the Place

This is the place that has witnessed my deepest transformations - the shedding of my heaviest veils. Its structure is ideal for staying one day, a week, or a moth (which I've done twice now, during the Shamanic Retreat of january/february 2014 & 2015). Within its limits the strangest society is formed, an ipso-facto family of deep seekers, great masters, yogic enthusiasts, lecturers, retreat groups, tourists keen on the beautiful surrounding landscape and passers-by that maybe come with their families for a mid-day culinary moment. However, each group has their special place, and Allkamari's design knows how importantly space and motive are intertwined. The Kiva - a north-american native temple, built on the blessing of Beautiful Painted Arrow - is the place where ceremonies are confined, leaving both the healing and the enjoying (although sometimes they may collide within ceremonies!) their ground of being. Its resort infrastructure is well above most hotels in La Paz, leaving not only tourists, but tired pilgrims of the plants also, deeply thankful of its services. The crew working for your full satisfaction is quite friendly, having built on Allkamari not only a career, but a kind of family. From the cooks to the shamans, everyone has your well-being at heart, so that the food is also healthy and natural, flowing effortlessly in the energy stream that Allkamari musters to call its own, possibly being the perfect prism for the soul of the Valle de las Ánimas.
Teacher