About This Center
We offer one-of-a-kind, transformational plant medicine retreats at the beach in Olon. Featuring the powerful and sacred plant medicines, Ayahuasca (from the Amazon jungle) and San Pedro (Huachuma from the Andes Mountains), our 9-day retreats are designed to help those who seek healing, clarity, inner wisdom, and connection.
Vikara is the only Plant Medicine retreat center right on the beach in Ecuador. The healing properties of the ocean, combined with your intention, the transformative powers of the fire and the medicines, offer profound healing and life-changing experience.
We work with incredibly skilled Shamans, who have decades of experience in the healing arts and plant medicine ceremonies. Unlike many of the other retreat centers, we keep our groups very small, in order to facilitate a personalized experience and to ensure the safety of all of our guests.
What to Expect
Safety and wellbeing are our main priorities at Vikara. We are passionate about creating an environment where you feel comfortable, safe, and supported through the entire process.
Our Shamans
We only work with experienced shamans that have trained for years with plant medicines. Our compassionate and well-trained healers share their teachings, healings, songs, capabilities with integrity and honor. We work with bilingual Shamans, and ceremonies are conducted in English.
Consultation
Our Shaman, facilitator and team are all here to prepare and guide you through the process. We offer consultations with the Shaman and facilitator before and after the Ayahuasca experience to discuss questions and share your experience. We are also available for post-retreat consultations via Skype.
Group size
Our ceremonies are limited to a maximum of 10 participants in order to make sure that the Shaman can take care of everyone individually during the ceremony. This creates a very unique and personalized atmosphere, which separates us from other retreat centers, who work with much larger groups.
Preparation
All of our activities during the Ayahuasca retreat are focused on preparing our participants for the plant ceremonies. This includes daily yoga practice, breathwork, meditation, spiritual guidance and time for self-reflection. We advise all participants to have confidence in the process and to stay calm and present even if unfamiliar sensations arise. All sensations are only temporary, and you will feel normal again within a short period of time.
The Ayahuasca Diet
The diet typically includes a vegetarian diet excluding caffeine, red meat, fish, onion and garlic, acidic fruits, fermented foods, alcohol and other stimulants such as excessive exposure to exercise, sexual activities and negative influences.
With the chef's flair in design and knowledge in healing foods, you can expect during your stay that your plate will look as attractive as it does deliver on taste and nutrients. He can adapt as well to your dietary requirement(s) if needed.
THIS PLANT MEDICINE RETREAT IS FOR YOU IF YOU ARE SEEKING
Healing from emotional wounds, trauma, PTSD, anxiety, depression, or addictions
Spiritual growth and evolution
Greater awareness of your blockages so you can finally release them and feel more self-love
Clarity of the truth of the Universe and your purpose in it
New perspectives to get yourself out of old patterns and habits
A deeply fulfilling connection to something greater than yourself
Inner peace and more joy in life.
TRUST IN THE MAGIC OF TRANSFORMATION
Trust in the magic of transformation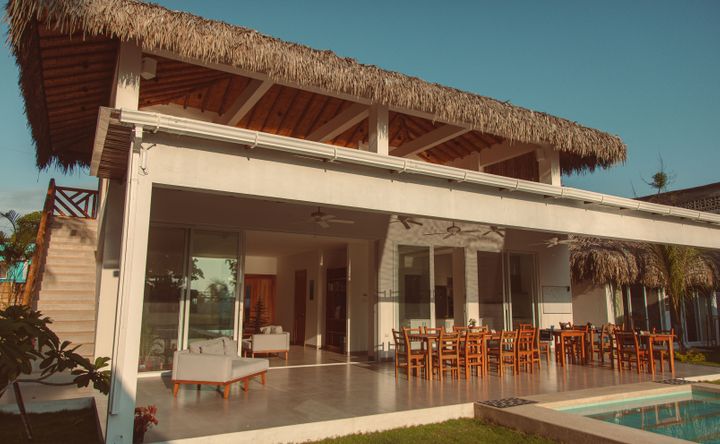 Venue Highlights
Vikara's location is also vastly unique from other retreat centers in Ecuador. We are right on the beach in Olon, which makes our ceremonies have an extra special magical sensory and energetic element. Our brand new retreat center is luxurious and upscale, with private suites, emperor king-sized beds, private bathrooms, air-conditioning, hot showers and wifi. Our property also features a swimming pool, ceremonial Maloka, sweat lodge, garden, an amazing yoga shala overlooking the ocean and a community area featuring our dining area and lounge space to relax in. With a spa-like feel to your retreat, you'll feel like royalty on your journey towards joy, relaxation, clarity, and personal growth.
Each plant medicine retreat features a Shaman from a different region of Ecuador, offering diversity in ceremonies that no other retreat center offers. Every ceremony is different, and each shaman has a particular way of guiding these sacred journeys. All of the shamans we work with are incredibly skilled and experienced, and have performed countless healing ceremonies with many people from all aspects of life.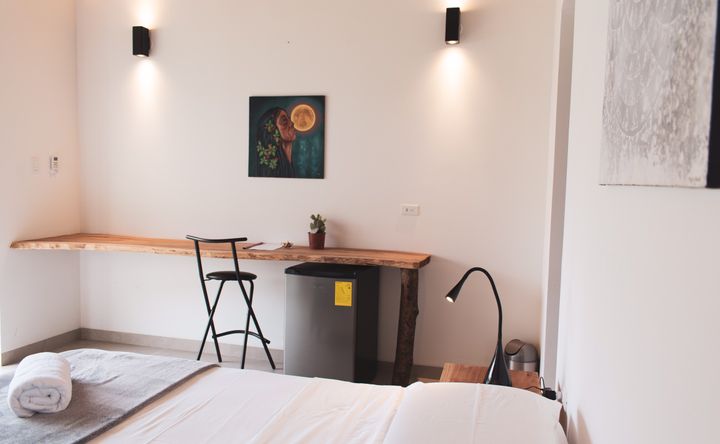 Accommodations
Vikara offers eight ocean-front suites with shared (two people) and private-room options. All suites include private bathrooms, air-conditioning, locally designed wood furniture, and Wi-Fi. Other amenities include a swimming pool, ceremonial tepee, sweat lodge, garden, yoga shala overlooking the ocean, and a community area featuring the dining area and lounge space to relax in.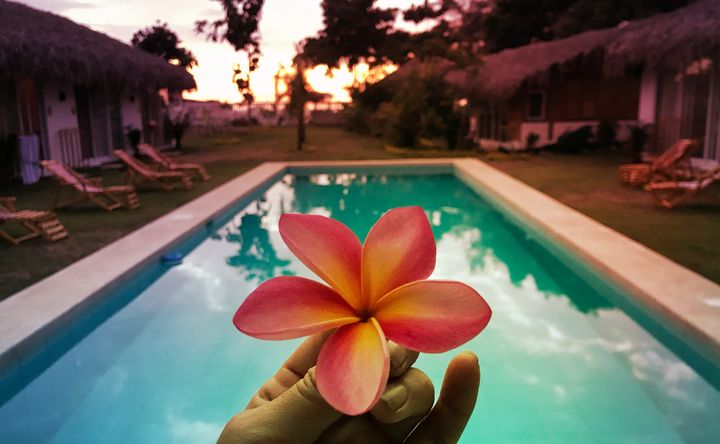 Amenities
A/C in Rooms
Free Wifi
Pool
Towels
Free Parking
Tour Assistance
Coffee/Tea
Cafe
Restaurant
Fitness Center
Yoga Studio
House Keeping
Bicycles
Ceremony Space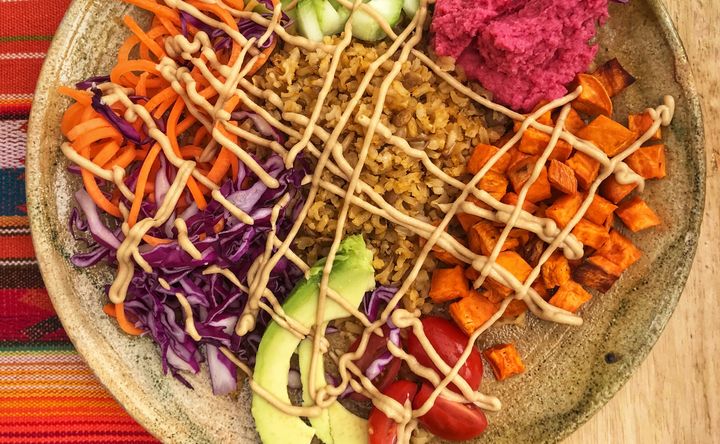 Menu Types
Vegan
Vegetarian
Pescetarian
Ayurvedic
Gluten Free
Nut Free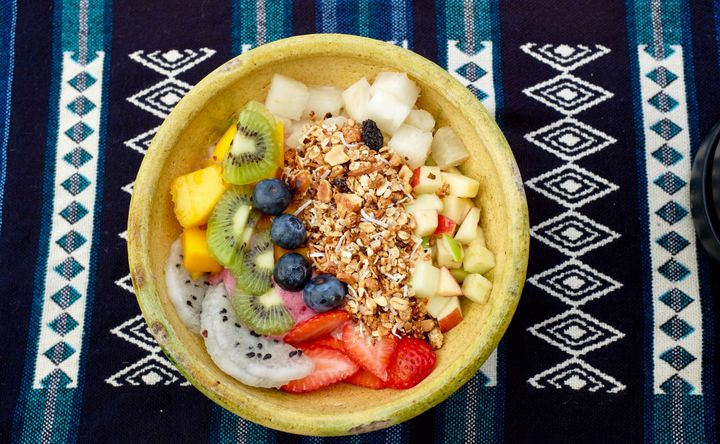 Menu/Cuisine
Healthy, nutritious meals catered to your dietary needs.
As Hippocrates said, "let food be thy medicine and medicine be thy food." At Vikara, food is art and central to our well-being.
"There are corporeal, organic things that need to be cleared before you can see the essential," Jan Kounen says in the book The Psychotropic Mind: The World According to Ayahuasca, Iboga, and Shamanism. His words poetically sum up why it's important to physically prepare your body for taking ayahuasca. Most of our bodies are cluttered with all kinds of stimulating, sensational foods from our modern diets — foods filled with salt, sugar, and caffeine. To open yourself up to receive the messages of Madre Ayahuasca, you need to first clear yourself of these toxins.
With the chef's flair in design and knowledge in healing foods, you can expect during your stay that your plate will look as attractive as it does deliver on taste and nutrients.
*If you have special dietary requirements please let us know
Directions
We are located directly on the beach in Olón, an authentic and quaint village in Ecuador-off the beaten track.
Olon is an easy 2.5 hour bus ride from the Guayaquil (GYE) airport. Here in Olon you will find the perfect balance of nature, people and culture. You can swim with dolphins, practice Spanish with the locals and walk the beautiful 7.6 km beach. Surf is year-round and the beach break is both friendly for beginners and challenging enough for more advanced surfers. The sunsets are epic, and because we are beachfront, you will fall asleep to the sound of waves lapping the shore.
To come from Guayaquil you have 2 options:
· We can arrange for our driver to pick you up at the airport for an extra charge (some of our retreats include transportation)
· You can take a bus from the bus station.
Taking a bus from Guayaquil:
Take a taxi from the airport to central bus station in Guayaquil (may cost between 3 to 5 dollars ).
At the bus station, you have to go to the C.L.P (Cooperativa Libertad Peninsular) and ask for a ticket for a bus DIRECT to Olón. There are many buses to Olón, but only de Direct one could bring you faster.
The bus ride ends exactly at the Olón´s bus station. There we will be waiting for you :)
Reviews
Write a review - tell others about your experience.