About This Center
The Temple of the Way of Light is a pioneering healing center in the Peruvian Amazon that has facilitated safe ayahuasca healing retreats for thousands of guests from more than 30 countries since our foundation in March 2007. Offering a synthesis of ancient Shipibo healing traditions and modern and Eastern integrative practices, the Temple is proud to be known as the safest and one of the most respected and long-established plant-spirit shamanism centers in the Amazon Rainforest.
All our ayahuasca healing retreats feature a balance of highly experienced female and male healers (Onanya) from the indigenous Shipibo tribe. This incredible team of healers represents over 250 years of experience practicing the ancient art of ayahuasca shamanism. They are supported by our highly trained and knowledgeable Western facilitators, who act as a critical cultural bridge between the healers and our guests.
The Temple's ayahuasca healing retreats are united by an unwavering focus on compassion and safety. We are constantly striving to offer the safest container for our guests while they move through their ayahuasca journey. This level of care extends to before, during and after the retreat.
BEFORE: We apply some of the most stringent health and safety protocols in the Amazon, including in-depth medical screening. Guests also receive detailed guidance on how to prepare for healing with ayahuasca and the initiation of a long-term journey of self-discovery, spiritual awakening and transformation.
DURING: The Temple nourishes a spiritual practice based on the exercise of love and compassion. Put simply, we care deeply about our guests. We have embedded this approach by establishing a high ratio of staff to guests, which ensures an exceptional level of service and individual attention.
AFTER: We view the ayahuasca experience as a continuum. We are currently in the process of developing a new and comprehensive 3-month aftercare program to be offered for free to all guests. The aim of our Continuing Care Program is to support our guests with integration of the healing that is experienced after ayahuasca retreats at the Temple. This already includes a private Facebook integration group for the Temple community and a team of integration guides and a network of affiliated therapists, and coming soon, weekly emails offering a road-map for integration over a 3-month period and a tool-kit of meditations, exercises, practices, resources, and general advice.
It is well past time that we imbue the modern world with the timeless qualities associated with our sentient mother planet.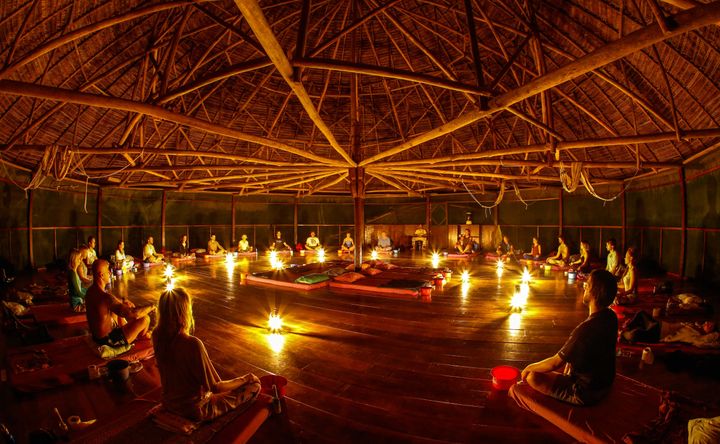 Venue Highlights
The Temple recognizes our ayahuasca healing retreats as sacred work and is dedicated to providing the optimum conditions for profound, long-term healing. Through ayahuasca, our retreats move us into right relationship with ourselves and others. By bringing clarity to where and how we must change – and treating the psycho-spiritual and emotional imbalances that impede change – ayahuasca and the Temple's Shipibo healers help guests toward a healthier, more integral, and joy-filled life.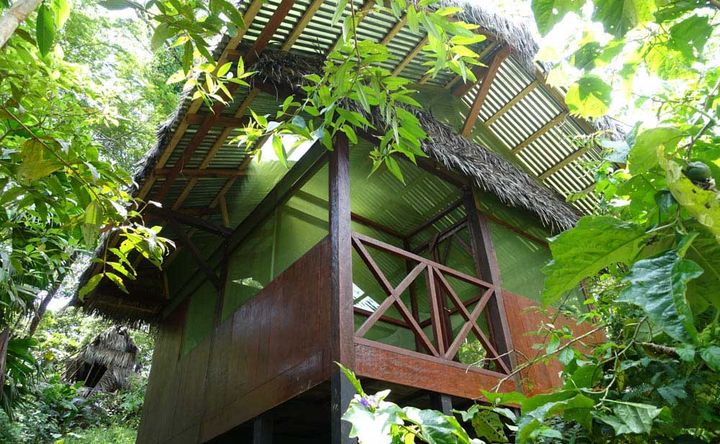 Accommodations
All of our accommodations are private. For our retreats hosted in Center 1 (9 and 12 Day Retreats), you will have the option of your own tambo (jungle hut) which has a private compost toilet inside. Most guests are in their own tambo unless they are coming with a partner with whom they would like to share.
If you participate in a retreat in Center 2 (14 and 23 Day Retreats), you will have a private room in a shared building and will share a compost toilet with a few other guests. We currently cannot accommodate two people in one room in the Center 2, however couples can be placed in rooms next to each other.
Both centers provide a central showering area with 3-4 showers.
We provide you with linens for your bed and a towel. These are changed for you several times during the course of a retreat.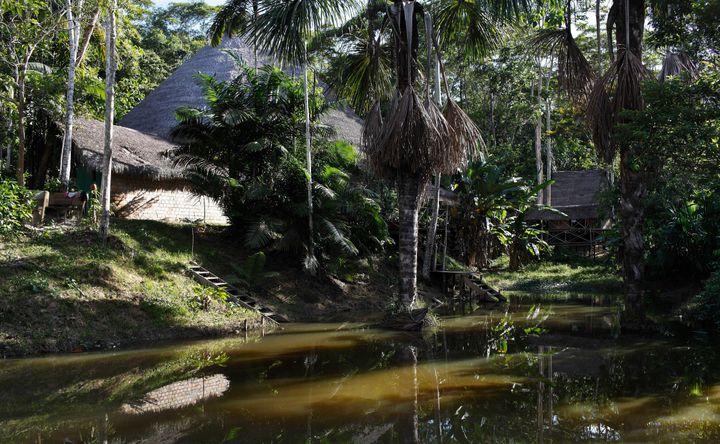 Amenities
Towels
Yoga Studio
House Keeping
Ceremony Space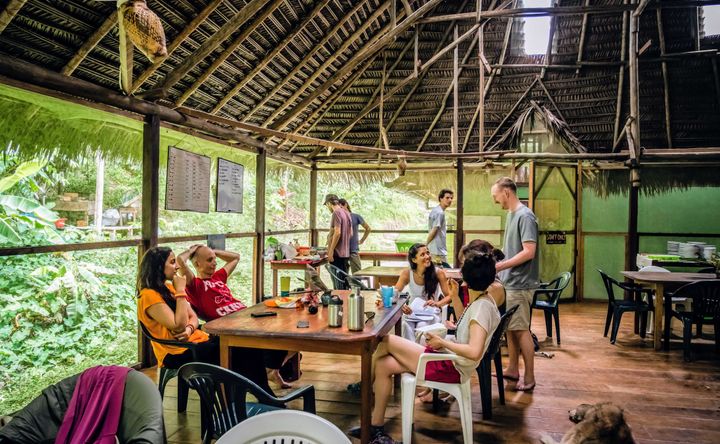 Menu Types
Vegan
Vegetarian
Pescetarian
Meat
Gluten Free
Dairy Free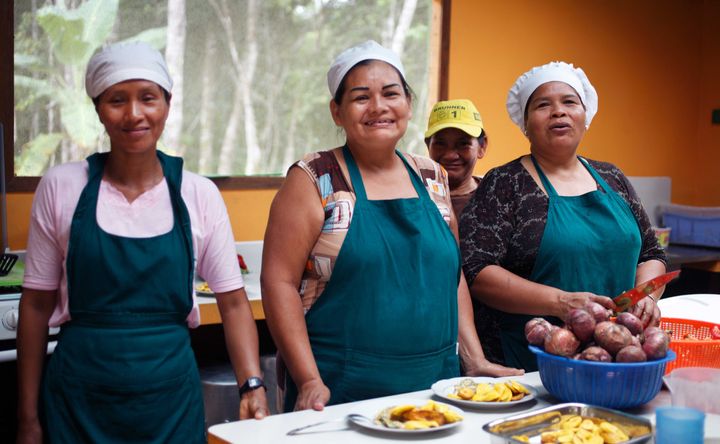 Menu/Cuisine
One of the most important aspects of working with ayahuasca is adhering to an honored tradition of following a special diet in order to prepare not just the body, but also the mind and soul to incorporate the healing energy of ayahuasca. This diet also shows the spirit of ayahuasca your intention, and is a test of discipline and commitment.
The central aspects of the diet we follow at the Temple are common to the teachings of all ayahuasquero/as across the Peruvian Amazon. The food at the Temple is prepared by our wonderful cooks who provide well rounded, healthy, and plentiful meals throughout your stay whilst adhering to the essential restrictions.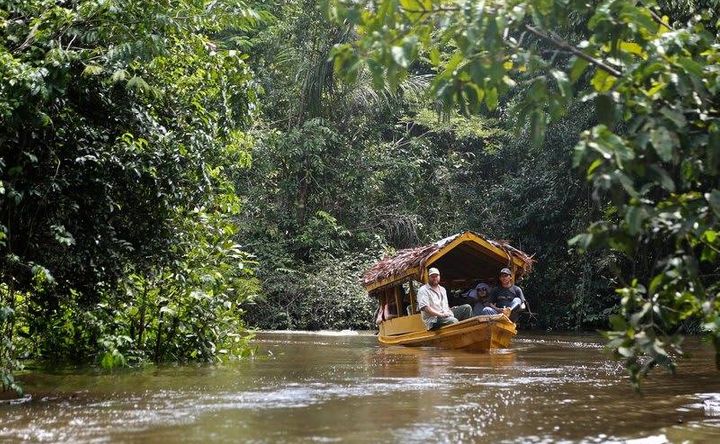 Directions
**Please do not book flights or make any travel arrangements until your registration and medical information has been reviewed and you have been approved to attend a retreat.**
In order to come to the Temple you would need to fly into Iquitos International Airport. We recommend booking your flights for one day before and after the start and end date of your retreat to first allow yourself time to acclimatize to the environment and then allow yourself ample travel time and time to reintegrate into the "mainstream" world once the workshop has ended.
Each retreat group will be picked up on the first morning of the retreat at a designated pickup location in central Iquitos by one of our staff members and then travel to the Temple together from there. The group will be brought back into Iquitos after breakfast on the last morning of the retreat and will arrive in town by early afternoon (usually 2pm at the latest).
The price of a Temple retreat includes transportation from the group pickup place in Iquitos to the Temple on the first morning of the retreat and transportation back to Iquitos on the last morning of the retreat. The price does not include any flights, hotel costs, or transportation to the group pickup on the first morning.
Reviews
Write a review - tell others about your experience.
Misty Katz July 12, 2020

Not good experience

My experience at this centre was not good. I cannot recommend this place to anyone.

Talitha F February 24, 2020

Only concerned about profit.

I found this retreat center to be unethical and greedy. Their website said 12 participants for a yoga retreat, which was what I was looking for for my healing, yet they crammed 30 people into their yoga rooms and into their "personal" sharing sessions. One young troubled gentleman, who was clearly there for healing and not for the "next trip in life", shared with me that he would've opened up about his problems if the group wasn't so large. What a shame! His healing, as well as my own, was hindered due to their greediness. I didn't go all the way to the jungle of Peru to be herded and crammed into rooms like cattle, and to be snapped at by staff for how long it was taking all of us to do the same thing at the same time. Who would want that?! It was an introvert's nightmare. They admitted that their website was misleading once I returned home early, but refused to refund my money. I'd steer clear of this organization, and find one that actually was concerned with helping people heal, rather than profiting off of hurting people seeking help. Nothing has ever been given to me. I did hard labor to earn enough money for that retreat, and I have literally nothing to show for it. They don't represent good light here. I'd move on.

Place with great integrity, curanderos are lovely, you are well taken care of - by Susan

I have been to the Temple of the Way of Light twice now and can say that it is a place with great integrity, the food rocks and the curanderos just lovely. This is more of a Plant Spirit Medicine retreat however… it is not just about Aya. You will consult with the curanderos who will also give you other plant doctors based on need. The Maestras bathe you in a floral bath every day at noon to clear your spirit… simply wonderful. I would recommend it to anyone and I am 56, not young… you will be well taken care of there

Well run center, amazing staff and shamans - by Jan Geens

I did "the temple of the way of light" in Iquitos Peru. I found it a well run center where everything is being taken care of for you (even your laundry). The staff and shamans were amazing. It was a 12 day-7ceremony-retreat and that was enough for me (and for most of my peers). (cost retreat 1500euro) Looking back on it after a year, I can't believe how much ayahuasca changed my life for the better. It's expensive but definitely been a life reset button. I would recommend doing the diet they prescribed as it detoxes the body and takes up the medicine better.