About This Center
Enjoy the endless summer with the premium Costa Rica Surf Camp and Surf School at Playa Dominical, the ultimate surf location in the southern zone of Costa Rica!
Amazing Experience
Dominical Waverider is the premium surf camp in Costa Rica offering a variety of packages to suit all your needs, we provide everything you need to have the best surf vacation in Costa Rica. We make it easy, just book your flight to Costa Rica and we will take care of everything for you! Traveling and surfing abroad has never been so much fun! If you are looking for one of the most exciting and unforgettable vacations of your life then contact us!
Outstanding Service
Our team is extremely friendly, qualified, and are the best surf instructors in Costa Rica. You could not be in better hands! Dominical Waverider surf camp is founded by a Californian lifeguard. Our team is comprised of highly trained and certified lifeguards and instructors who provide surf lessons geared toward all skill levels. We are dedicated to a fun and safe surf vacation. Come have the experience of a lifetime and learn to surf with the best!
Incredible Location
A great thing about Playa Dominical is that there are so many exciting tours and beautiful attractions nearby. You will be surrounded by lush rain-forests teeming with wildlife, pristine beaches with warm water and plenty of adventures to experience! Within walking distance or a short drive from town, you can enjoy it all! If you are thinking of going to tropical Costa Rica for your next vacation, Dominical Waverider surf camp should be your destination.
Just spent a week with Dominical Waverider surf & yoga camp and from what I saw of the other camps – they were definitely a step above the rest. We had more one on one coaching vs. 6 campers to 1 coach we saw at other camps. The cost was totally reasonable and they took care of everything for us! They are an amazing group. I'm already dreaming of coming back! ~ Elizabeth R.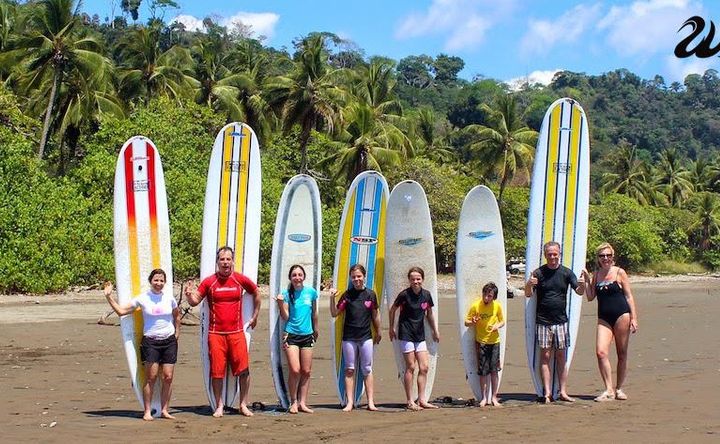 Venue Highlights
Dominical Waverider's Surf Camp promises you a Costa Rica vacation experience like no other! We all know what it takes to have a great trip. Our team's collective world-travel and surfing experiences ensures that not only will you be taught by well-seasoned surfers you will be among a group of adventurous spirits each with their own engaging stories that will entertain you while you learn to surf and discover all that is special about Dominical and the surrounding area.
Our Packages:
STOKED RIDE:
Stoked Ride package includes everything with which to create a most memorable surf vacation in Costa Rica!
Dominical Waverider Surf Camp offers four different places to stay so you can pick the one that best suits your needs. Pick your accommodation, make a reservation, and let us take care of the rest for you. Get ready, your experience is just about to begin…
ULTIMATE RIDE:
Designed for all levels and age-group, the Ultimate Ride surf vacation package includes all the TOP things to do while you are on your trip in Costa Rica. You will be treated to daily professional, fun surf sessions at an uncrowded beach and then each day you will be treated to an adventure tour, like exploring the underwater world of the South Pacfiic while snorkeling, or go on an adventurous canopy's zip-lining tour, or have an adrenaline-rushing experience rappelling picturesque waterfalls, or go rafting down our heart-pounding wild rivers, or go on fun, guided tours of the area. We promise that each day will bring a new and memorable experience that will make this trip the best one of your life!
NAMASTE RIDE:
Combining Surfing and Yoga, we've designed a package for 'Women Only' of all ages and surfing abilities who are seeking to learn to surf while leaving behind the stress and to recharge their energy in paradise. Practice daily Yoga, surf warm water, explore the area, go on new adventures, make new friends and most of all have fun! Give yourself a chance to experience Costa Rica in a way that you had never imagined before. Come ride with us!
BACKPACKER'S RIDE:
Backpackers Ride is the perfect package for travelers on a budget looking to surf and experience beautiful Costa Rica. Swim at a gorgeous waterfall, visit beautiful famous landmarks, watch amazing sunsets and surf warm tropical waves is just a few things you should expect from you trip. Get ready for some adventure!
Accommodations
We have a variety of hotels and hostels to choose from:
-MAVI: Our surf camp's new favorite place to stay around town. MAVI is a brand new Boutique Hotel, located just 200 yards from the ocean and is a great place to stay in Dominical. Breakfast is included and the hotel futures a nice pool for clients to enjoy.
-Tropical Sands: Tropical Sands is surrounded by gardens given a charming and tropical feeling to this newly remodeled Eco Inn Hotel in Dominical. Located on the quite south side of Dominical beach, it stands 150 meters from the ocean (1 minute walk to the beach, in other words). Breakfast is included and also has a communal kitchen for clients.
-Costa Paraiso: From the moment you enter the gates of Costa Paraiso, you know that you've arrived at a destination of unparalleled natural beauty. Towering waves thunder against a volcanic rocky peninsula, launching 30-foot flumes of water into the sky – so close, you can almost feel the spray. Wide miles of pristine beach beckon for discovery and exploration just steps away. Costa Paraiso is a coastal paradise for guests seeking recreation and relaxation in spectacular natural surroundings.
-Villas Rio Mar: Villas Río Mar is the perfect hotel for travelers as a couple or with family and group of friends looking to spend your vacation near the beach while staying in a nice hotel with a wide range of amenities to enjoy. The hotel is surrounded by tropical gardens, features a large swimming pool with pool bar, one of the best restaurants in town, tennis court, outdoor gym, spa and the rooms are well decorated and set up for different client needs.
Hostels:
-Cool Vibes: Cool Vibes Hostel is has a new location on the south side of the Dominical town and it's about 150 yards walking distance to the ocean (1 minute walk to the beach, in other words). The hostel has free Wi-Fi internet for clients, a large kitchen full equipped for clients to use, a common area with TV and a small pool. You have the choice to rent a private or share room with AC or fans. Each room has your own bathroom.
-Tortilla Flats: Tortilla Flats has been a locals favorite bar for over 10 years because of the excellent food, friendly staff, skate park, and perfect beach front location. It also features a small hotel with one room cabins with double beds and single or bunk beds in each room, with private bathrooms, fan and porches with hammocks to relax in. The restaurant is one of the busiest in Dominical and offers a wide variety of dishes including healthy sandwiches, fish tacos, fresh tuna, and local dishes called casados.
Houses:
We have a number of houses available to rent. Please contact for more information.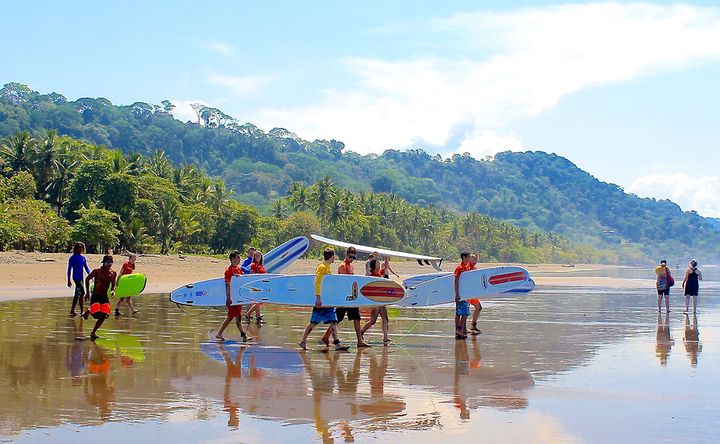 Directions
You want to fly to San Jose International airport (SJO), where a driver will be waiting outside the airport for your arrival and drive you to Dominical. The drive between San Jose and Dominical is about 3 hours.
You can also take an additional 30 minutes flight from San Jose Airport to the Quepos Airport, where a driver will pick you up and take you to Dominical approximately 20 minutes.
You can book your flight to Quepos on the small planes from either, 'Sansa' or 'Nature Air' airlines. Sansa is often easier, since they fly out of the San Jose International Airport. Nature Air operates out of a regional airport a short taxi ride away. Rates average around $50-$90 per person, each way, depending on the season.
The guests are responsible to book ALL flights, international and domestic, and a copy of the itinerary must be emailed to us prior to complete your reservation with Dominical Waverider surf camp.
Reviews
Write a review - tell others about your experience.