Event
Sep 22 - 27, 2020 (6 days)
About This Center
Imagine yourself relaxing into the supportive nature of personalized attention, 100% ORGANIC vegan/vegetarian meals all included, elegant accommodations, walking the ancient trails, meditating inside an Andean Mountain Cave, discovering your ancient energy through Mystical ceremonies, and connecting with the rarified energy of Sacred Mother Gaia in our AUTHENTIC TEMESCAL as you re-discover the BLISS of YOU!
TOSA BLUE MOUNTAIN is an AUTHENTIC ORIGINAL 200+ year old Homestead nestled in the Andes mountains. 25 pristine acres encompassing ONSITE hiking trails, meditation caves, archeological sites, State of the Art-yoga studio, Water therapy center and so much more!
Breathe, smile and explore our website as you EMBRACE the BEAUTY of your true nature! TBM is far from ordinary and for those who are ready to REDISCOVER, RECLAIM and REMEMBER the greater vision of your life experience!
"It is the land itself that guided us! It speaks to you! From the first moment we stepped onto this sacred site it has been speaking and we have been listening. With every breath ever more magic is revealed!" …Sri and Kira
Venue Highlights
Known as an ACTIVE Spiritual Expansion Vortex & Portal for millenia, TBM lovingly co-resides with a 2500 year old ORIGINAL Canari Settlement! Radiating Divine Connection the energy here defies description. Nestled in a Sacred Andean Valley just outside of the UNESCO CIty of Cuenca, where the Medicine of San Pedro cactus grow, the Condor soar and the air so sweet, your heart will sing!
Yoga Studio, water therapy center, authentic temescal/sweat lodge, four direction fire pit, hiking trails, meditation caves, Mayan ceremonial site, Violet Ray Shiva Temple and Meditation Center, Private healing sessions with Sri and Kira, Tours to nearby attractions such as Ingapirca (the Machu Pichu of Ecuador!), Extraordinary views of the Andes and more!
Accommodations
As you connect with all of our unique overnight accommodations, each has been created to offer accommodations for the most discerning traveler to the budget minded.
I. The Compadres Suites: Built to honor the Compadres Mountains that majestically stand as guardians of TOSA Blue Mountain these two identical suites are our finest accommodations. Begin with your Queen sized Tempur-foam bed with Egyptian Cotton Sheets and L'Occitane bathroom amenities. Your private bathroom includes a lovely tub and your perfectly appointed bed invites gentle cozy mornings with a cup of fresh brewed organic coffee with views of the mountains! Each suite has a private patio for sunset views that you will remember forever!
II. Merlin's Cottage: This cottage is a popular space for couples and families looking to experience the authenticity of this sacred land! Upon entering, the lovely living area greets you with the magic of Merlin, the namesake of the cottage. Cozy chairs, coffee bar and table/chairs for enjoying the views are all waiting along with a fireplace heater to add to the charm. Open the door to a breathtaking view and enjoy the large patio as you sink into the magic of you! Equipped with top quality twin beds and one full size, there is room for up to four people.
III. Ganesha's Community House: Imagine an elegant hostel for those who enjoy meeting others without compromising anything! The Ganesha community house was custom designed by Sri Ram Kaa with a keen sense of use of space to comfortably accommodate up to eight persons without feeling cramped! Three lovely bedrooms are each appointed with twin beds with high quality mattresses and a large living room with generous seating. The outside patio offers additional space to relax, connect and watch the sunrise or sunset with presence! A favorite gathering space for many resident guests, this space reserves by the bed! Note! Two of the rooms do have bunk beds and you can request a lower bunk if available. To facilitate a greater sense of spaciousness this casita has two separate showers, two separate sinks and two separate toilet areas so that your comfort is always a priority while you enjoy the gift of connecting with other visitors.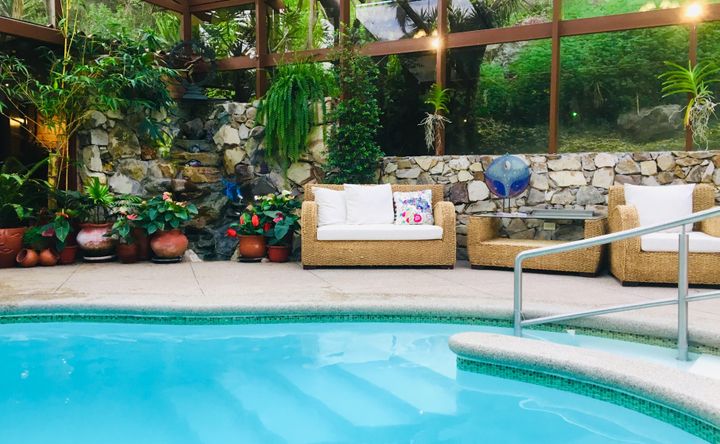 Amenities
Free Wifi
Spa
Sauna
Pool
Towels
Free Parking
Tour Assistance
Hot Tub
Coffee/Tea
Cafe
Restaurant
Fitness Center
Yoga Studio
House Keeping
Ceremony Space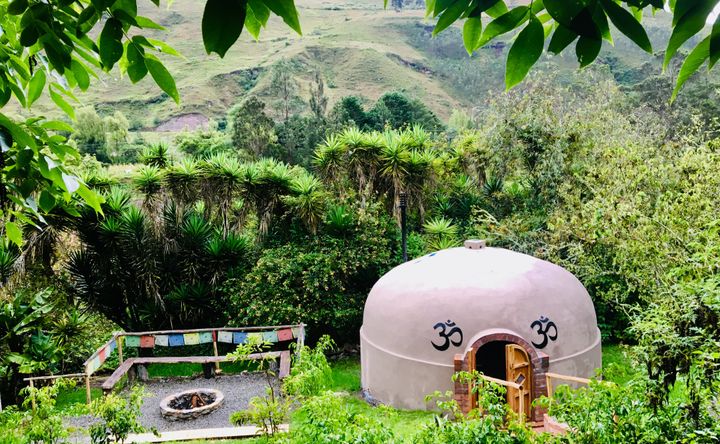 Menu Types
Vegan
Vegetarian
Organic
Gluten Free
Dairy Free
Menu/Cuisine
Enjoy the world's best coffee perfectly crafted as you indulge into vegetarian & vegan bliss! Organic, locally grown produce on-site. Colorful, delicious, balanced and savory! Always gluten-free and special needs are welcomed.
The gift of soul nourishment is that you are sending a signal to the body that you love it. When the body receives the signal of love, it will respond with healing, peace, serenity and vitality.
Directions
TOSA Blue Mountain is 45 minutes outside of Cuenca, Ecuador. There is an airport in Cuenca, however, flights into Guayaquil are typically less expensive. Guayaquil is about four hours away from TBM. Our English speaking driver is present and available to pick you up from the airport or your Hotel in Guayaquil. Sit back and relax during the scenic drive to TBM, stop for a delicious vegetarian meal along the way and enjoy the quick stop at Cajas National Park to stretch your legs!
Traveling from somewhere else in Ecuador? Please Let us know! We may be able to offer your transportation.
Reviews
Write a review - tell others about your experience.
Teacher
May all beings enjoy profound brilliant glory. Dedication of merit in Shambhala