About This Center
Welcome to your yoga retreat in the beautiful Sierra foothills of Northern California! Since 1971, the Sivananda Yoga Farm has been an oasis of peace and tranquility for people from all walks of life to come and find themselves.
Yoga and meditation are the most effective methods to recharge the body and mind and relieve the tension and stress of modern life. Take time to slow down, enjoy nature and reconnect to a wholesome way of life, re-inspire with new thoughts and perspectives, uplift your spirit with daily chanting, and apply techniques to increase your awareness and joy.
Come for a Yoga vacation of a few days or weeks and gradually walk the path towards the deeper aspects of Yoga – from improving fitness and relaxing to maintaining health, calming the mind, and even becoming a counselor and Yoga teacher for others.
My Experience: I loved TTC. Every part of it. Really. I was always marveling at how seamless and spacious it all felt even in the midst of a tighter schedule. And then I remembered where the teachings came from. The staff at the ashram were all so supportive and kind. The teachers amazing and just breathed what they taught/teach. I felt nourished physically, mentally and spiritually from arrival through departure and it stays with me. I think some of the effect on me is trust. Deeper faith and trust in God which I practice through Sivananda yoga. I feel more relaxed, peaceful and often able to stay in the moment. TTC did change my life on many levels. An obvious change has been that I have let go of teaching Vinyasa and other asana practices and focused on teaching Sivananda. I had been worried if people would appreciate it here in Fairfield county but they do and who was I to doubt. And I don't have to come up with sequences and playlists so I can spend more time sitting, breathing etc. My Advice to future students: Take it easy and breathe, do your homework, pay attention in lectures etc, trust the teachers when they say it's all ok. Remember this is your guide, your friend and don't take any one thing too seriously. Dance with it all and laugh. Enjoy it it passes way too soon.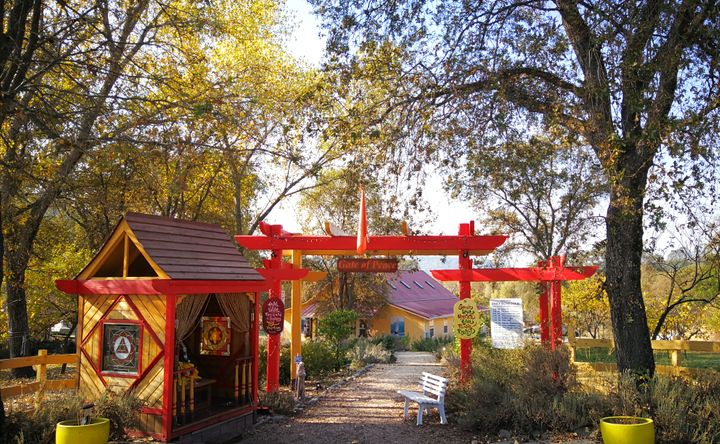 Venue Highlights
Open to guests year round, the Yoga Farm welcomes people from around the world and provides a peaceful setting in which to find a way back to a holistic lifestyle in harmony with nature. Additionally, our guests testify to the effect of a sense of stress relief and moreover they feel an improved physical, emotional, and spiritual health. You can join for a day, a week, or longer.
06:00am Satsang (Meditation, Chanting, Lecture, or Silent Walk)
08:00am Asanas and Pranayama (All-Lervels Yoga Class)
10:00am Organic Vegetarian Brunch
11:00am Karma Yoga (Selfless Service)
04:00pm Asanas and Pranayama (All-Lervels Yoga Class)
06:00pm Organic Vegetarian Dinner
08:00pm Satsang (Meditation, Kirtan chanting and Lecture)
To keep up the spiritual atmosphere of the Ashram, the participation in the morning and evening meditation and one Asana class daily are mandatory. Programs are subject to change or cancellation.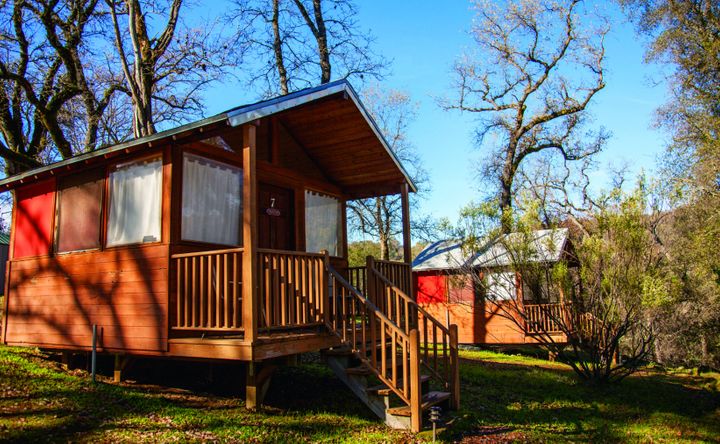 Accommodations
The Yoga Farm accommodations are separate cabins that are nestled under trees with beautiful surroundings. If you would like to register, please click on the links below and it will bring you to the Yoga Vaction registration page for the accommodations of your choice. The rates below include daily Satsangs, organic vegetarian meals, Hatha Yoga classes and access to ashram facilities. Learn more by checking out our Guest Information page. Special courses and events have an additional tuition rate. You can check our Program Calendar for a full listing of events. We also welcome day guests, but please let us know ahead that you are coming. There is a holiday surcharge during Easter, Memorial Day, 4th of July, Labor Day, Thanksgiving, Christmas, and New Year.
Deluxe Shanti Cabins
These extremely comfortable and spacious cabins are tastefully furnished and decorated. Watch the deer wander by from the front porch with sun shade. For your comfort, an air conditioner, propane heater and ceiling fan are provided; furnishings include a desk/table and chairs, dresser/wardrobe and a sitting area. A small refrigerator, dishes and cutlery are provided.
Om Cabins
Our original Om Cabins are placed in a peaceful and tranquil setting, on a gentle hillside overlooking the pond and surrounded by the natural beauty of the Ashram. Each cabin is named for a different virtue, such as happiness or contentment. Each cabin is furnished with a dresser, desk, night stand, ceiling fan and propane heater.
Tenting
Guests may bring their own tent or rent out an ashram tent and camp on the land. Sleep closer to nature in the fresh, open air. There are deck platforms designated for tenting.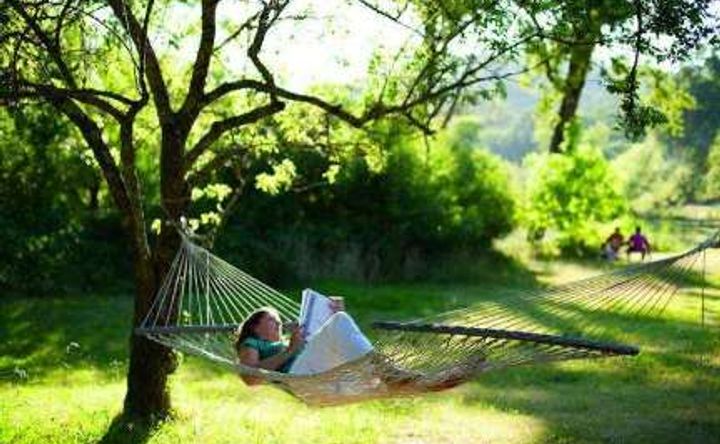 Amenities
Free Wifi
Towels
Free Parking
Coffee/Tea
Yoga Studio
Menu Types
Vegan
Vegetarian
Ayurvedic
Organic
Gluten Free
Dairy Free
Nut Free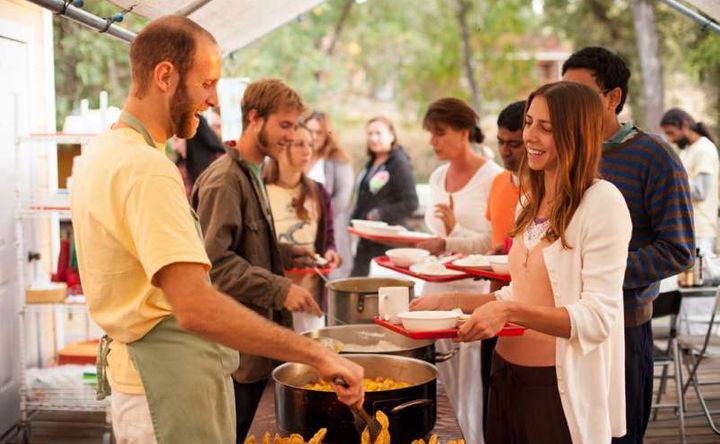 Menu/Cuisine
Eating a plant-based diet has been conclusively shown to be good for health and well-being. Furthermore, it is detoxifying and nutritive at the same time. In addition, the meals are freshly prepared with love and care by dedicated karma yogis. Also, the ashram uses mostly organic, locally produced fruits and vegetables.
The buffet meals offered are lacto-vegetarian. We also have a permaculture vegetable garden and grow some of our own food and flowers.
Please note that meat, fish, alcohol, tobacco, coffee, black tea, and eggs are not served in the ashram.
The meals are offered at 10:00 am and 6:00 pm with a small fruit snack served in the afternoon. Additional snacks are available in the boutique if needed.
In case you have any special dietary restrictions please mention so on your application form and we will do our best to accommodate you.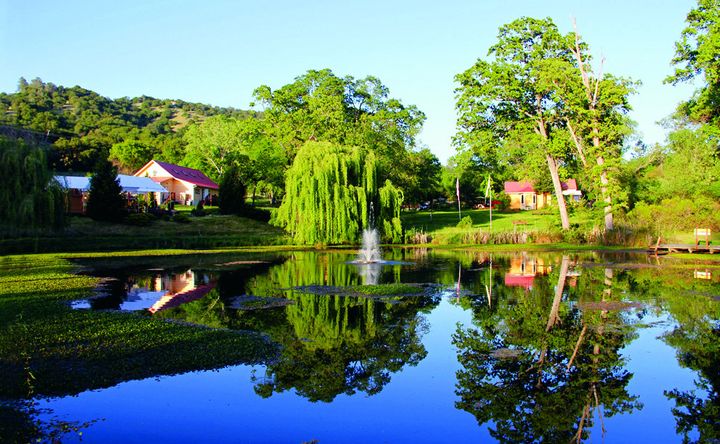 Directions
The Ashram is situated near highway 49 between Auburn and Grass Valley, just one hour from Sacramento and three hours (without traffic) from San Francisco and is easily accessible by car or by Amtrak (train and bus).
Reviews
Write a review - tell others about your experience.